Ampliroll Hooklift Dealer Feature: T. SANCHEZ LTD. OF LEDGEWOOD, NEW JERSEY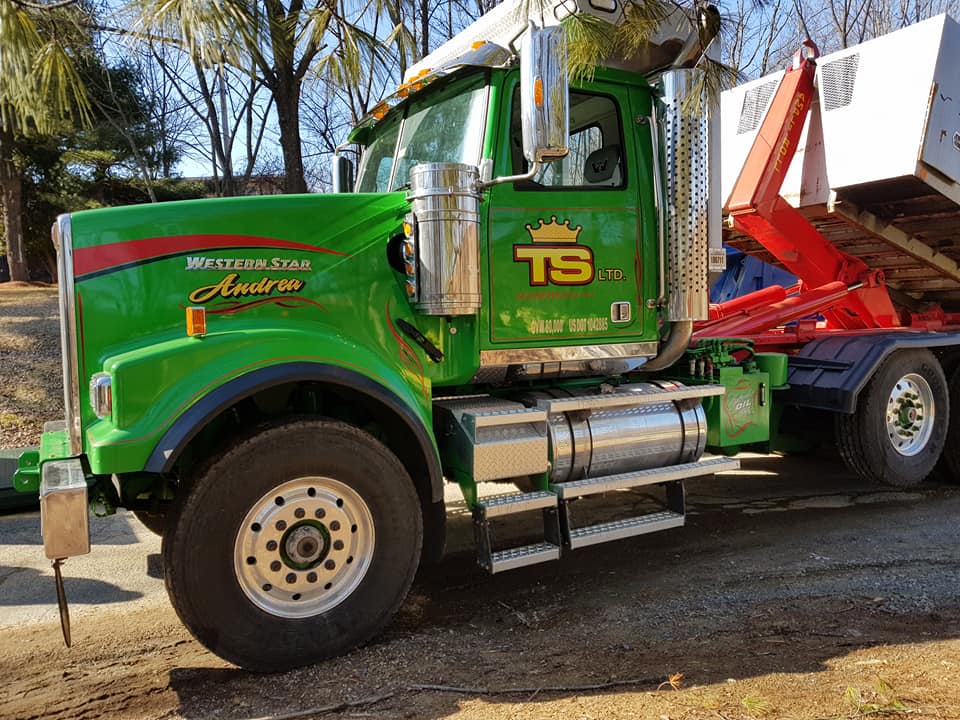 Fleet operators and other truck owners in and around New Jersey will find no better source for truck bodies and truck equipment than T. Sanchez Ltd.
Founded by Antonio Sanchez and located in Ledgewood, New Jersey, the company has been meeting the needs of truckers for nearly 40 years with equipment installations, complete builds and repair services. Quality and service are keys to satisfying so many customers for such a long period.
"We offer truck equipment, truck bodies and truck parts from all of the leading suppliers," said Tony Sanchez, Jr., Sales Manager. "It's likely we have what you need in stock. But, if not, we can get it for you quickly given the excellent relationships we've built over the years."
Installing America's leading truck equipment brands — including Ampliroll
Beau-Roc, Blizzard Snowplows, Good Roads, Ice Go Way, Roll-Rite, Truck Bodies and Switch-N-Go are just a few of the top names carried by T. Sanchez Ltd. So is Ampliroll.
Recognized as a leader in the trucking industry, Ampliroll-brand hydraulic hooklifts bring contractors, landscapers, municipalities, road commissions, waste haulers and others, many advantages.
When equipped with an Ampliroll hook loader, a single cab-and-chassis can load, haul and unload as many different truck bodies as needed. This might mean a rolling on a dump body one day, a flatbed the next, a waste container the day after, and so on.
Ampliroll Hydraulic Hooklifts let users make the most of their investments. Many take advantage of Ampliroll hook loaders to minimize purchase costs, licensing fees and insurance expenses.
Reviewing the many benefits of Ampliroll Hydraulic Hooklift Systems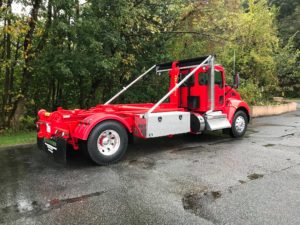 "Roll-on bodies also allow fleet managers to gain maximum use of their trucks from a minimum number of drivers," said Sanchez. "That's a major savings in and of itself. Of course, finding, training and keeping drivers in today's labor market is another challenge. A hydraulic hooklift solution like Ampliroll can be a big plus."
Cable loaders offer some of the benefits of roll-on/off hook loaders such as Ampliroll, but not all. The differences are efficiency and safety.
Ampliroll Hook Loader operators don't have to leave the cab to hook and unhook cables. With truck cab-mounted controls, they also avoid operating the system out-of-doors. This saves a number of minutes with every loading and unloading sequence.
For operations including scrap metal recyclers and waste haulers that deal with multiple containers left onsite for pickup once filled, the greater efficiency of Ampliroll Hydraulic Hooklift Systems can mean several extra loads per day.
Then there's the matter of greater safety with hook loaders like Amplrioll. With the driver performing all operations in the cab, there's no need to get out, cover a ground surface that might be slick from snow, rain or grease, and then climb back in.
Ampliroll hydraulic hook loaders offer a measure of security that operators of cable loaders don't enjoy. They have to stand outside next to moving machinery to operate the controls. Not so with Ampliroll systems for roll-on truck bodies. The steel truck cab helps shield them from any potential mishap.
Check out all that T. Sanchez Ltd offers for truck equipment, new builds and more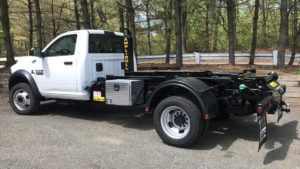 Ampliroll appreciates the strong vote of confidence that Tony Sanchez, Jr. and his team at T. Sanchez Ltd. have placed in our brand of hydraulic hook loaders for roll-on/roll-off truck bodies.
If you're located in New Jersey or nearby states, we suggest you visit them at 1685 Route 46 West,
Ledgewood, NJ 07852. You can phone T. Sanchez Ltd. at (973) 398-3398 or contact the company by email at asanchez@tsanchezltd.com.
For selection, savings and service, make Ampliroll your first choice in hooklift systems
Ampliroll Hooklift Systems are manufactured by Marrel – the inventor of the dual-pivot hook loader in 1969 and first again in bringing them to users across the U.S. in 1980. Today, Ampliroll is the only supplier in the U.S.A. of premier hook loader systems and associated equipment.
Unlike many others, we also offer a complete selection of truck-mounted accessories and roll-on/off bodies that we can supply as a package with our hook loaders, allowing for single-source acquisition! Select from aerial lifts, cranes, grapple systems and more. Also choose from cement mixers, dump bodies, flatbeds, septic pumpers, waste containers, water tankers and other interchangeable bodies. In addition, you can select from our line of high-quality pre-owned hooklift vehicles.