Ampliroll Hooklift Dealer Feature: OLYMPIC SALES OF WEST FARGO, NORTH DAKOTA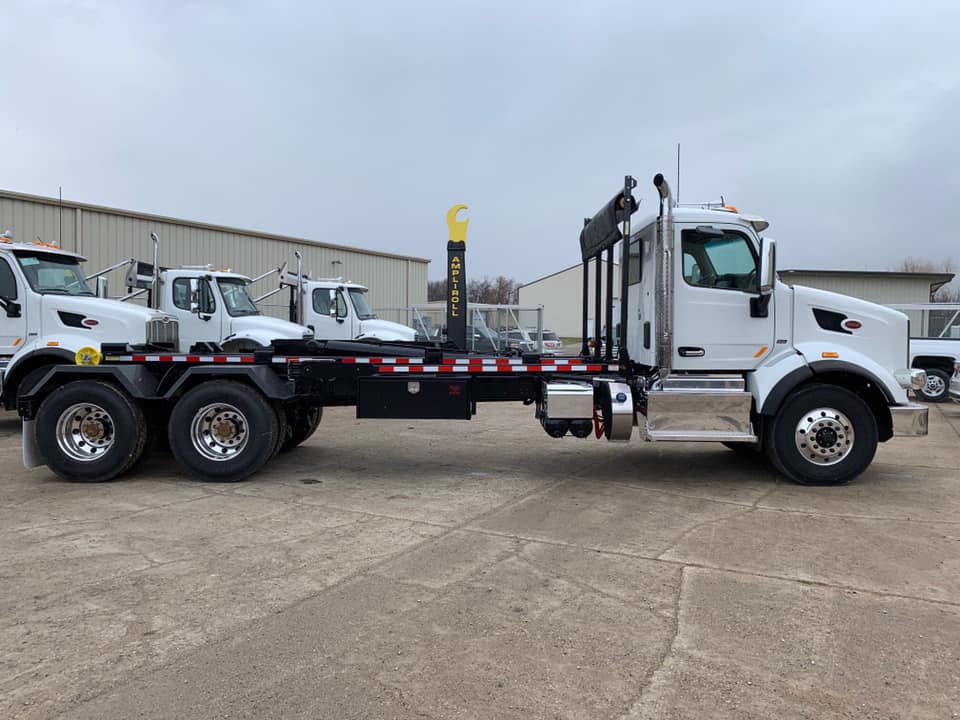 A long-time leader in refuse trucks and related equipment, Olympic Sales serves clients throughout Minnesota, Montana, North Dakota, South Dakota and Wyoming.
Operating under the banner of, "Quality products and services you can trust!" company president Greg Krutsinger and his team meet the needs of contractors, fleet operators, municipalities, scrappers, waste haulers and others.
Buyers around the region rely on Olympic Sales for a complete product line of new and pre-owned refuse equipment, including:
• Cable hoists
• Compactors, stationary and self-contained
• Container compactors, front- and rear-load
• Dumpsters in many models and sizes
• Hooklifts
• Refuse bodies, front and rear
• Roll-off containers
• Sideload containers
Offering expert consulting on solid waste management
Those in the refuse industry should know that Olympic Sales does more than just sell equipment. The company offers professional solid waste management consulting. Clients benefit from insights gained from many years of industry experience.
Greg Krutsinger and his team are your source for expertise on everything from complicated transfer stations to collection and transporting options. They also advise on container considerations and provide bid writing assistance.
Distributing America's top brands — including Ampliroll
When it comes to product lines, Olympic Sales makes no compromises in quality or value. The company is a leading distributor in the region well-recognized and highly regarded products including New Way (packer bodies) and SP Industries (compaction systems).
We're also proud to report they've selected Ampliroll as their brand of hydraulic hooklift systems.
When a roll-on/roll-off application is called for, one brand name stands out among the company's list of preferred partners: Ampliroll. A long-time provider of hydraulic hooklifts, the loading equipment manufacturer is widely recognized as an industry leader.
Refuse operations seeking to purchase a cab-and-chassis, equip it with a hydraulic hook loader and operate it with as many roll-on/roll-off containers or other truck bodies as needed will find many advantages with Ampliroll.
Among the benefits that truck owners and fleet operators gain with Ampliroll Hydraulic Hooklifts is cost savings. When matched with multiple truck bodies, one rig can do the work of many. Owners enjoy the most efficient use of their equipment.
It's not unusual for a scrapper, waste hauler, contractor, municipality or other operators to use multiple bodies throughout a day, week or season. Easy to operate form the safety of the cab, hooklifts load and unload faster than with cable-loaders for roll-on/roll-off systems.
With Ampliroll Hydraulic Hooklifts, clients of Olympic Sales enjoy other advantages. In choosing Ampliroll, they gain the ease of ground-level loading, a best-in-class life span (25+ years) and form-fit jibs (i.e., no plastic or steel shims). Hook loaders from Ampliroll also offer best-in-class payloads. Truck owners also proceed with the confidence that's earned from Ampliroll's over 45 years of proven performance.
For sales, rentals, bodies, equipment and more, check out all that Olympic Sales offers
Ampliroll appreciates the strong vote of confidence that Greg Krutsinger and his team at Olympic Sales have placed in our brand of hydraulic hook loaders for roll-on/roll-off truck bodies.
If you operate in Minnesota, Montana, North Dakota, South Dakota or Wyoming, we suggest you visit them at 650 2nd Avenue NW, West Fargo, North Dakota 58078. You can phone Olympic Sales at (701) 281-8223, and ask for Greg so he can show you how to have an Olympic Day!
For selection, savings and service, make Ampliroll your first choice in hooklift systems
Ampliroll Hooklift Systems are manufactured by Marrel – the inventor of the dual-pivot hook loader in 1969 and first again in bringing them to users across the U.S. in 1980. Today, Ampliroll is the only supplier in the U.S.A. of premier hook loader systems and associated equipment.
Unlike many others, we also offer a complete selection of truck-mounted accessories and roll-on/off bodies that we can supply as a package with our hook loaders, allowing for single-source acquisition! Select from aerial lifts, cranes, grapple systems and more. Also choose from cement mixers, dump bodies, flatbeds, septic pumpers, waste containers, water tankers and other interchangeable bodies. In addition, you can select from our line of high-quality pre-owned hooklift vehicles.