Ampliroll Hooklift Maker Celebrates 100 Years In the Truck Equipment Business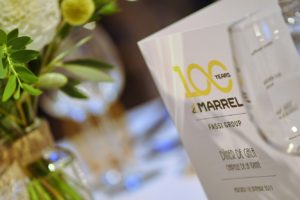 You don't become one of the world's leading manufacturers of hydraulic hook loaders without plenty of hard-earned experience. And few, if any, can match the century of heritage now celebrated by Marrel Corporation — the maker of Ampliroll Hydraulic Hooklifts.
The company was founded in 1919 in a small town in France. Its purpose? To make equipment for lifting materials onto military truck chassis leftover from WWI.
The pioneering truck-loading system was considered the first of its type in the world. It formed the basis for countless innovations and improvements that continue to benefit the trucking industry customers of Marrel to this very day.
Major milestone: Marrel invents the hydraulic hook loader.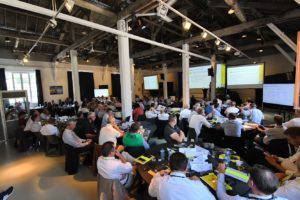 Building on its heritage of a manufacturer of quality equipment for trucks, Marrel produced the first dual-pivot design hydraulic hook lift in 1969. It introduced the concept to the U.S soon thereafter. The innovation enabled fast and efficient loading and unloading of roll-on/off truck bodies to chassis-and-cab combinations.
With the hook loader, one vehicle with multiple truck bodies could do the work of many rigs. And, more safely, too. Competing cable-loader roll-on/off setups require operators to stand outside and operate the controls — often on slippery ground and always in close proximity to moving machinery. Not so with Ampliroll Hooklift Systems.
Loading and unloading roll-on/off truck bodies with Ampliroll Hydraulic Hooklifts is accomplished by the driver within the safer confines of the truck's cab. Because there's no need to exit the vehicle and hook up heavy cables, the process is completed in a fraction of the time it takes for cable-loader to finish the same task. For Ampliroll Hydraulic Hooklift rigs, that means more hauls per day.
This efficiency is especially important when Ampliroll Hooklifts are chosen by operators of waste hauling and scrap metal companies. Their roll-on/off containers are often left onsite at multiple locations until full and ready for replacement.
Of course, other users including contractors, highway departments, landscapers and municipalities benefit from the efficiencies that Ampliroll Hydraulic Hooklifts bring to fleets in size from one hook loader-equipped rig to a dozen or more.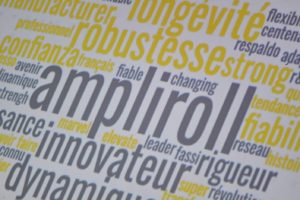 The world takes notice of Ampliroll-brand Hooklifts.
Seeing that the Ampliroll Hydraulic Hooklift was becoming more and more popular around the globe and throughout America, many other truck equipment manufacturers jumped on the hook loader bandwagon.
Some competitors simply drew inspiration from the innovative Ampliroll dual-pivot lifting mechanism for hooklifts. Other makers copied the Ampliroll hook loader design almost lock, stock and barrel —  basically changing only the hooklift system's hydraulic operating pressure!
Many stick with the original hook loader — Ampliroll.
Every day, countless Ampliroll Hooklifts are proving their worth across America and around the world. While several hook loader companies are operating in the U.S., only a few find their products in use in 39 countries worldwide like Ampliroll. You'll find them hard at work wherever heavy loads are hauled — and efficiency, value and quality are prized.
When comparing hook loaders, remember Ampliroll's unsurpassed 100 years of experience in the truck equipment field. Also, consider its recognition worldwide as an industry leader.
For selection, savings and service, make Ampliroll your first choice in hydraulic hooklift systems.
Ampliroll Hooklift Systems are manufactured by Marrel – the inventor of the dual-pivot hook loader in 1969 and first again in bringing them to users across the U.S. in 1980. Today, Ampliroll is the only supplier in the U.S.A. of premier hook loader systems and associated equipment.
Unlike many others, we also offer a complete selection of truck-mounted accessories and roll-on/off bodies that we can supply as a package with our hook loaders, allowing for single-source acquisition! Select from aerial lifts, cranes, grapple systems and more. Also choose from cement mixers, dump bodies, flatbeds, septic pumpers, waste containers, water tankers and other interchangeable bodies. In addition, you can select from our line of high-quality pre-owned hooklift vehicles.