THE WORK TRUCK SHOW® Pulls into Indy March 4-6. Get a FREE PASS and check out the latest from an industry leader: Ampliroll!

For 20 years now, The Work Truck Show has been a can't-miss destination for operators of entire fleets, multiple vehicles … or single rigs with several roll-on/off truck bodies.
That's why wherever you see hard-working trucks, you'll discover hard-working Ampliroll Hydraulic Hookifts! In fact, if you're considering a roll-on/off solution, you won't find a better hook loader.
Experience is a special strength. With Ampliroll, you'll go with the confidence you've selected a system with a rock-solid reputation for on-the-job reliability and excellence in engineering.
No one's expertise runs deeper. Marrel Corporation — the maker of Ampliroll Hydraulic Hooklifts — celebrated 100 years in the trucking equipment industry just last year.
Just like the trucks you depend on, the company's been hard at work. Marrel manufactured the world's first dual-pivot design hydraulic hook lift in 1969 and introduced the concept to the U.S shortly thereafter.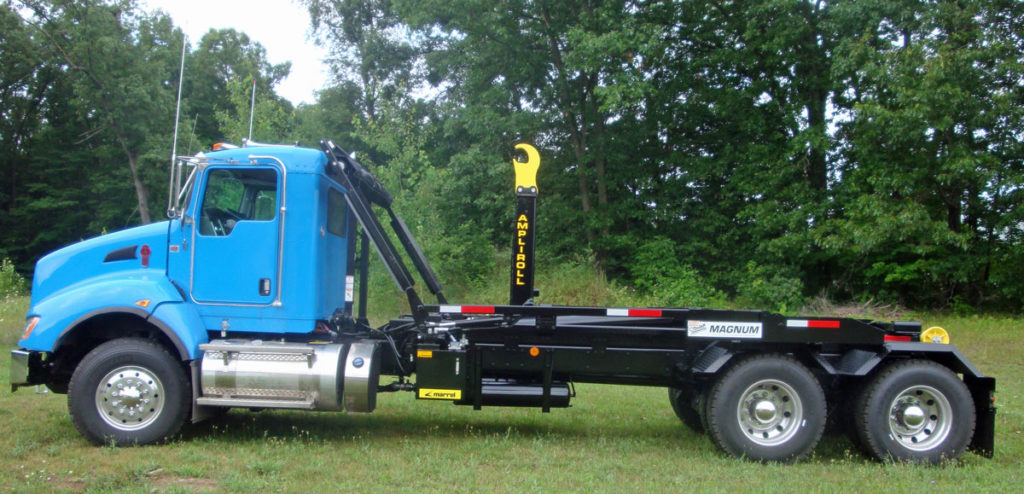 Builders, landscapers, municipalities, scrap recyclers, waste hauler and countless others soon discovered the time- and money-saving benefits to this innovation.
Instead of buying many single-use rigs, operators could purchase but one cab-and-chassis, equip it with an Ampliroll Hydraulic Hooklift and go with as many roll-on/off truck bodies as their operation required.
Less investment. Fewer employees. Reduced operating expenses. And, greater efficiency. For many, Ampliroll Hydraulic Hookifts are the best way to roll!
Check out all of our solutions. In fact, with us, you can obtain your equipment, service, financing and training from a single source. So, to the list of advantages above, add one more — convenience!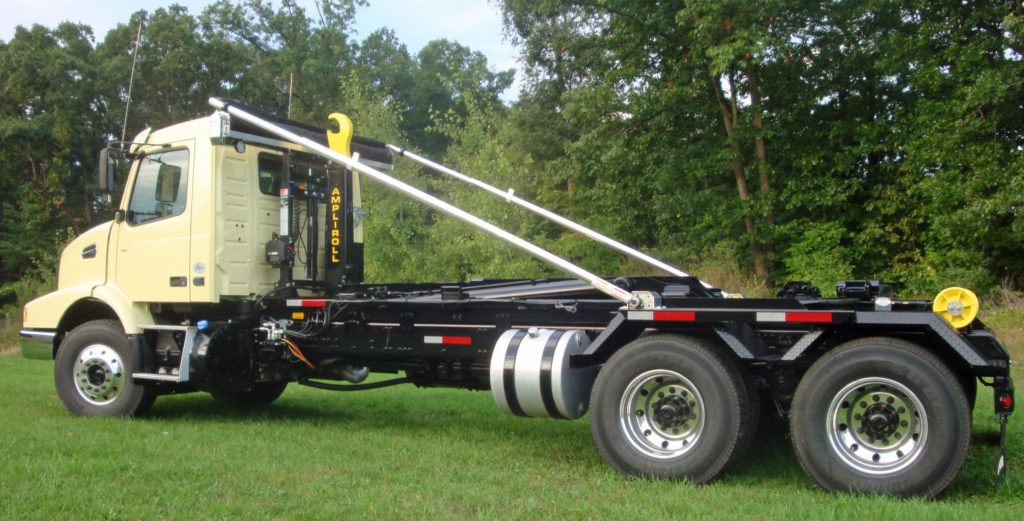 For selection, savings and service, make Ampliroll your first choice in hydraulic hooklift systems.
Ampliroll Hooklift Systems are manufactured by Marrel – the inventor of the dual-pivot hook loader in 1969 and first again in bringing them to users across the U.S. in 1980. Today, Ampliroll is the only supplier in the U.S.A. of premier hook loader systems and associated equipment.
Unlike many others, we also offer a complete selection of truck-mounted accessories and roll-on/off bodies that we can supply as a package with our hook loaders, allowing for single-source acquisition! Select from aerial lifts, cranes, grapple systems and more. Also choose from cement mixers, dump bodies, flatbeds, septic pumpers, waste containers, water tankers and other interchangeable bodies. In addition, you can select from our line of high-quality pre-owned hooklift vehicles.
Be sure to visit us at Booth #2601 at The Work Truck Show in Indianapolis. Click on WTS20 Free Pass – Ampliroll.pdf to register by fax or go Register Online using promo code WT92. It's free!