Ampliroll Hooklifts: The choice of a top Florida truck and van upfitter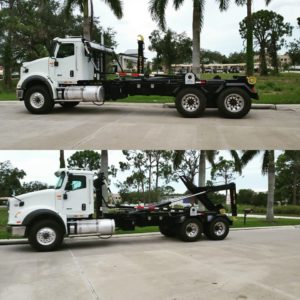 Serving Charlotte, Collier, Lee Counties and other locations throughout the Sunshine State, ABG Fabrication is an owner-operated company that meets all contractor truck and equipment needs.
Operating under the banner of, "If you can imagine it, we can fabricate it," ABG provides a wide array of products and services.
From van shelving, custom pick-up toolboxes and one-of-a-kind truck body fabrications, the company has the needs of most truck owners and fleet operators covered. Whether it's a single truck customization or upfitting an entire commercial fleet, owner satisfaction is their main goal.
With over 50 years of combined welding, fabrication and repair experience, just about any project is possible with ABG. The company's specialized services include truck body fabrication. They also perform truck body repairs and provide truck body equipment.
Custom-fabricated contractor truck bodies are an ABG specialty. Popular choices are chipper bodies, landscaping dump bodies, flatbeds and service bodies in either aluminum or steel.
Hydraulic hooklifts from an industry leader — Ampliroll.
ABG recognizes the many advantages to roll-on/off truck bodies in terms of efficiency and value. That's why they offer hydraulic hooklifts from one of the best in the business: Ampliroll.
With hook loaders from Ampliroll, a truck owner or fleet operator's possibilities are endless. Just one cab-and-chassis with any number of roll-on/off truck bodies can quickly transform into a variety of vehicles.
Are you a landscaper who needs a chipper body in the morning and a dump body in the afternoon? Or, perhaps a contractor who requires a tanker body one day and a flatbed the next?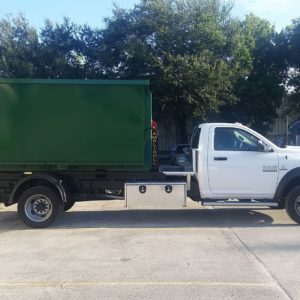 As offered by ABG, Ampliroll hydraulic hooklifts when coupled with your choice in roll-on/off truck bodies give you the flexibility you need.
Of course, there's also the advantage of value. One Ampliroll hook loader-outfitted truck with multiple bodies can do the work of many rigs. You'll appreciate the need to purchase and maintain fewer rigs and insure and license a smaller fleet. Of course, you'll also hire, train and retain fewer drivers. That's a big plus for owners of Ampliroll roll-on/off hook loaders nowadays when good operators are hard to find!
Before you look to cable loaders for similar roll-on/off solutions, you should know that they don't deliver nearly as much efficiency as Ampliroll Hydraulic Hooklifts. With Ampliroll hook loaders, your operators can roll-on and roll-off truck bodies must faster than cable loaders, equating to more loads per day.
Your drivers will work more comfortably, too, from their air-conditioned (or heated) cabs. That's no small plus during steamy Florida summers when ABG-built rigs are on the roll for their customers!
Then, too, there's the matter of safety. Controls for hydraulic hooklifts from Ampliroll are located in the steel-enclosed cab — not outside and next to moving machinery as with cable loaders. Ampliroll operators don't need to load or unload while standing in the rain or on slippery ground.
For truck bodies, Ampliroll hooklifts and more, check out all that ABG offers.
 From its location on 4284 Enterprise Avenue in Naples, ABG Fabrication upfits trucks, repairs bodies and distributes parts and equipment throughout Florida. Be sure to visit them when on the Gulf Coast or call 239-330-8796 if you need design, fabrications or repairs.
For selection, savings and service, make Ampliroll your first choice in hydraulic hooklift systems.
Ampliroll Hooklift Systems are manufactured by Marrel – the inventor of the dual-pivot hook loader in 1969 and first again in bringing them to users across the U.S. in 1980. Today, Ampliroll is the only supplier in the U.S.A. of premier hook loader systems and associated equipment.
Unlike many others, we also offer a complete selection of truck-mounted accessories and roll-on/off bodies that we can supply as a package with our hook loaders, allowing for single-source acquisition! Select from aerial lifts, cranes, grapple systems and more. Also choose from cement mixers, dump bodies, flatbeds, septic pumpers, waste containers, water tankers and other interchangeable bodies. In addition, you can select from our line of high-quality pre-owned hooklift vehicles.