VISIT AMPLIROLL AT WORK TRUCK WEEK 2022 IN INDIANAPOLIS ON MARCH 9-11 Get a FREE PASS to see the show and check out an industry leader in hooklifts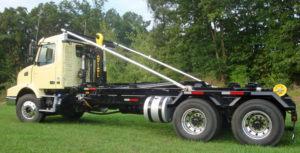 Get your FREE PASS to Work Truck Week 2022 courtesy of Ampliroll.
Click on this link, register as an Attendee and enter code WT83. Then be sure to stop by Booth #2601. See you there!
A top choice among contractors, highway departments, landscapers, municipalities, waste haulers and others, Ampliroll Hydraulic Hooklift Systems will be on display at Booth #2601 during Work Truck Week 2022 on March 9-11 at the Indiana Convention Center.
Take advantage of this opportunity. For over 20 years, the people who build, use and maintain work trucks have gathered every March to see first-hand the industry's latest products at this event—formerly called the Work Truck Show.
Business owners, fleet managers and individual owner-operators are encouraged to stop by our booth. You'll see a cab-and-chassis equipped with an Ampliroll Hooklift System. We'll also answer your questions on the features and benefits of our hook loaders.
If you're interested in roll-on/off solutions for your trucking operation, you won't find a better choice. At the exhibit, you'll discover the many advantages that Ampliroll Hydraulic Hooklift Systems deliver, including:
Excellent Selection: Ready for any challenge, Ampliroll offers hydraulic hooklifts with capacities ranging from 13,000 lbs. to 65,000 lbs.
Unsurpassed Experience: With Ampliroll, you'll gain the confidence you've selected a system with enduring quality and rugged reliability. Marrel invented the dual-pivot hydraulic hook loader in 1969 and introduced the concept to the U.S. in 1980 with Ampliroll®-branded products.
Enhanced Driver Safety: Your workers will operate Ampliroll's controls from the safety of their driver's seats. They're not exposed to moving machinery or slick, outdoor work surfaces as with cable loaders and their truck-side-mounted levers.
Fleet Manager Peace-of-Mind: There's another key benefit to our cab-operated controls. Reducing your driver's exposure to risk can help minimize your exposure to costly worker's compensation claims.
Precision Engineering: Forget about the shims or wear pads you may find on competitive hook loaders. By using the most up-to-date production processes including laser cutting and robotic welding, Ampliroll eliminates the need for extra parts or "make-do" components.
For selection, savings and service, make Ampliroll your first choice in hydraulic hooklift systems.
Ampliroll Hooklift Systems are manufactured by Marrel – the inventor of the dual-pivot hook loader in 1969 and first again in bringing them to users across the U.S. in 1980. Today, Ampliroll is the only supplier in the U.S.A. of premier hook loader systems and associated equipment.
Unlike many others, we also offer a complete selection of truck-mounted accessories and roll-on/off bodies that we can supply as a package with our hook loaders, allowing for single-source acquisition! Select from aerial lifts, cranes, grapple systems and more. Also choose from cement mixers, dump bodies, flatbeds, septic pumpers, waste containers, water tankers and other interchangeable bodies. In addition, you can select from our line of high-quality pre-owned hooklift vehicles.