BEWARE OF THE OVER-RELIANCE ON ELECTRONICS ON TODAY'S NEW HOOK LOADERS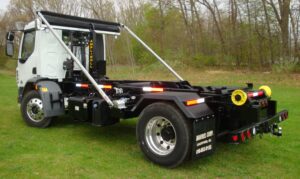 With all the new hook loader manufacturers entering or re-entering the North American market, the trend is to incorporate more and more electronics. Why? They claim the electronics make their equipment easier to operate.
But is this newly placed trust in electronic "gizmos" and "doo-dads" wise—given the rugged conditions under which most roll-on/off rigs operate? And that's not to mention the emphasis on avoiding downtime strived for by every fleet operator?
It may seem that electronics are a step forward in the modernization of a product that's been around since the late 1960s. Traditionally, hook loaders have been designed to be hydraulic or mechanical. Electronics were used only when required for safety and in just a few instances.
Today, some hooklift manufacturers tout the "advantages" of electronics. They often cite two-speed operation, return-to-stored position, soft-store and others supposed "plusses."
But it's a wise fleet operator that takes these claims of greater efficiency or easier operation with a grain of salt—or even a shaker full! After all, today's electronics require a healthy complement of position sensors, wiring harnesses, indicator lights, computer chips, fuses or circuit breakers to function correctly.
In the new equipment showroom or on the dealer lot, the electronics are likely to work perfectly. But in the field when profitable operations are at stake, even a slight misalignment of a sensor, a broken wire or a hard-to-track-down voltage surge can render the hook loader inoperative.
Consider this: Most failures on hook loaders that utilize electronics are in the electronics themselves—with very few breakdowns due to hydraulic or mechanical issues.
Hooklift makers with an eye on maintaining uptime recognize this fact. They engineer their equipment to achieve the same safety, efficiency or operational ease using hydraulic or mechanical means without an overreliance on finicky electronics.
Hook loaders are primarily used in construction, highway maintenance, landscaping, recycling and other rough-and-tumble operations where dirt, dust and mud rule the workday. And no time off is granted for extreme heat, cold or other harsh weather conditions.
It's best to select equipment that's as maintenance-free as possible. Look for products that don't require specialized electrical knowledge for maintenance. You may be stuck if you need a quick repair to a  circuit board or an air/over electrical interface that these new hook loaders rely on.
Instead, place your trust in a manufacturer that produces hooklifts that rely on tried-and-true hydraulic and mechanical systems instead of sophisticated electronics or a supply of 12 VDC.
You'll proceed with the confidence that your equipment can be maintained by your service team or at the dealer level. Most technicians are familiar with hydraulics or mechanics but many have no specialized knowledge of advanced electronics.
The bottom line? If you have customers to satisfy and a schedule to maintain, keep it simple! Hydraulic hooklifts of the type offered by Ampliroll are the better way.
For selection, savings and service, make Ampliroll your first choice in hydraulic hooklift systems.
Ampliroll Hooklift Systems are manufactured by Marrel – the inventor of the dual-pivot hook loader in 1969 and first again in bringing them to users across the U.S. in 1980. Today, Ampliroll is the only supplier in the U.S.A. of premier hook loader systems and associated equipment.
Unlike many others, we also offer a complete selection of truck-mounted accessories and roll-on/off bodies that we can supply as a package with our hook loaders, allowing for single-source acquisition! Select from aerial lifts, cranes, grapple systems and more. Also choose from cement mixers, dump bodies, flatbeds, septic pumpers, waste containers, water tankers and other interchangeable bodies. In addition, you can select from our line of high-quality pre-owned hooklift vehicles.