Ampliroll Hooklift Featured Dealer: HUDSON RIVER TRUCK & TRAILER, POUGHKEEPSIE, NEW YORK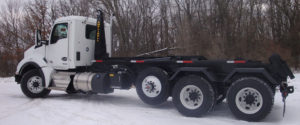 Known as the "Snowplow, Trailer and Truck Specialists," Hudson River Truck & Trailer is the mid-Hudson area's largest snow equipment dealer and most experienced distributor of custom truck bodies and trailers. Ampliroll Hydraulic Hooklifts are among its line of leading truck equipment brands.
Offering solutions for every type of trucker
From its location in Poughkeepsie, New York, Hudson River Truck & Trailer meets the needs of businesses, municipalities, owner/operators and others with a wide range of truck, trailer and van solutions. These include:
Commercial Van Interiors
Sanders
Snowplows
Trailers
Truck Bodies
Carrying a full line of products and accessories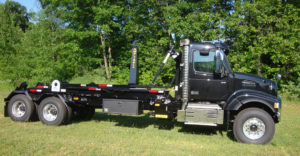 Fleet owners and individuals looking to maximize the utility of their vehicles rely on Hudson River Truck & Trailer. They sell, install and service efficiency-enhancing equipment of all types:
Hook Lift Systems
Ladder Racks
Liftgates and Cranes
Municipal Road Equipment
Skid Steer Attachments
Spray Linings
Suspensions and Axles
Truck Accessories
Featuring Ampliroll-brand Hydraulic Hooklifts
Among many hook loader competitors, Hudson River Truck & Trailer has selected hooklifts from an industry leader—Ampliroll.
Ampliroll Hydraulic Hooklifts bring a lot to any contractor, municipality, recycler, scrapper, waste hauler or other operation. Among their advantages:
Selection: Ampliroll meets the needs of users with hydraulic hooklifts in capacities ranging from 13,000 lbs. to 65,000 lbs.
Safety: Workers operate Ampliroll's controls in the cab from the safety of their driver's seat. They aren't exposed to moving machinery or slippery work surfaces as cable loader operators are with their truck side-mounted levers. Of course, the cab-operated controls on Ampliroll Hydraulic Hooklift Systems help reduce fleet operator exposure to costly worker's compensation claims, too.
Pressurization: Ampliroll Hooklifts feature high-pressure, 5,000 psi pumps. Because they offer greater performance, they're the system preferred by 75% of hook loader makers in America and around the world. No wonder that less-efficient, low-pressure (i.e., 3,000-3,500 psi) alternatives are becoming harder to find on hooklift systems.
Precision: Hook loaders from Ampliroll don't rely on the shims or wear pads you might find on hooklifts offered by others. Ampliroll eliminates the need for extraneous parts or "make-do" components. How? By using the most up-to-date production processes including robotic welding and laser cutting.
Experience: Ampliroll users take the road with the confidence of knowing they've selected a hook loader with an unsurpassed reputation for reliability and excellence in design. In fact, no one's expertise runs deeper than Marrel. The company invented the dual-pivot hydraulic hook loader in 1969 and introduced the concept to the U.S. in 1980 with Ampliroll®-branded products.
Meeting the needs of customers since 1988
Focused on service, Hudson River Truck & Trailer takes pride in the fact that nearly 80% of its new customers are word-of-mouth referrals from satisfied clients.
Contractors, craftsmen, landscapers, municipalities, solid waste haulers and others are invited to visit the company's new showroom, parts department and shop area. The company welcomes auto racing buffs, snowmobile enthusiasts and weekend warriors, too!
Hudson River Truck and Trailer
12 Commerce Street Extension
Poughkeepsie, NY 12603
To find out more, contact them by phone at (845) 454-7669 or by email at info@hudsonrivertruck.com.
For selection, savings and service, make Ampliroll your first choice in hooklift systems
Ampliroll Hooklift Systems are manufactured by Marrel – the inventor of the dual-pivot hook loader in 1969 and first again in bringing them to users across the U.S. in 1980. Today, Ampliroll is the only supplier in the U.S.A. of premier hook loader systems and associated equipment.
Unlike many others, we also offer a complete selection of truck-mounted accessories and roll-on/off bodies that we can supply as a package with our hook loaders, allowing for single-source acquisition! Select from aerial lifts, cranes, grapple systems and more. Also choose from cement mixers, dump bodies, flatbeds, septic pumpers, waste containers, water tankers and other interchangeable bodies. In addition, you can select from our line of high-quality pre-owned hooklift vehicles.