Ampliroll Hooklift Featured Dealer: TRUCK BUILDERS OF CONNECTICUT, PLYMOUTH, CT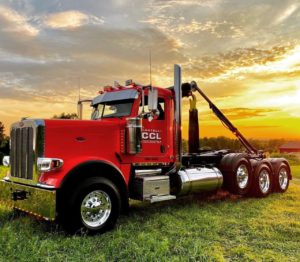 Serving the industry since 1997, Truck Builders of Connecticut is a trusted, full-service resource for fleet managers and owner/operators throughout New England.
Custom builds are a specialty. The company builds dump trucks, hooklifts, log trucks, straight trucks, tractors and other types to the unique specifications of individual users.
From pickups to tri-axles and everything in between, upfitting is also a Truck Builders' focus. The company upfits dump trucks, flatbeds, hooklifts, log trucks, plow trucks, roll-offs, straight trucks, tractors and many more.
Featuring America's leading brands
Whether for a custom build or an upfit, the company features the nation's premier equipment and truck body brands.
Customers are assured of top quality with equipment from Barko Hydraulics, Boss Plows, Brandon Dump Bodies, HYVA Hydraulics, Muncie Power, Trux Accessories and Vulcan Scales, to name just a few.
Relying on Ampliroll Hydraulic Hooklifts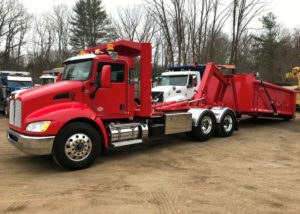 When it comes to hook loaders for roll-offs, one name stands tall among preferred suppliers by Truck Builders—Ampliroll Hooklift Systems.
Fleet managers and owner/operators enjoy numerous advantages over roll-off cable loaders with hydraulic hooklift systems from Ampliroll.
For example, safety is a major plus with Ampliroll Hooklifts. Drivers aren't exposed to moving machinery or slippery work surfaces like cable loaders with their truck side-mounted levers. Instead, they operate Ampliroll's in-cab controls from the safety and comfort of their driver's seat.
Other Ampliroll hook loader benefits are increased speed and efficiency. Drivers don't have to climb out of the truck to hook and unhook cables. Ampliroll's cab-mounted controls save time with every loading and unloading sequence. The inside controls also make for a more satisfied workforce; New England winters can get pretty rough.
Then there's the advantage of hook loaders like Ampliroll for off-center approaches. With a cable-loader, for example, the driver needs a perfect alignment. That can be time-consuming. But with Ampliroll Hooklifts, an operator can engage a dump container up to 60° off-center.
Offering a full range of services
Truck Builders' commitment to excellence goes beyond building and upfitting with leading equipment brands like Ampliroll Hydraulic Hooklifts.
In addition to truck sales, service and parts, truckers throughout New England can rely on the company for chassis certifications/re-certifications, dump cylinder replacements and pusher axle installations as well as truck refurbishing, repairs and much more.
Building trust as well as truck bodies
Ampliroll appreciates the strong vote of confidence that Truck Builders of Connecticut has placed in our brand of hydraulic hook loaders for roll-on/off truck bodies.
We also acknowledge their commitment to helping fleet managers and owner/operators stand out from the crowd. Truck Builders offers more custom options than most companies, helping to make the plans of their customers become reality. They will work with clients to create dream trucks—work vehicles that are ready to conquer any task.
Visit Truck Builders of Connecticut at 591 Main Street, Plymouth, Connecticut 06782. Alternatively, call them at 860-584-1174 or send them a message.
For selection, savings and service, make Ampliroll your first choice in hooklift systems
Ampliroll Hooklift Systems are manufactured by Marrel – the inventor of the dual-pivot hook loader in 1969 and first again in bringing them to users across the U.S. in 1980. Today, Ampliroll is the only supplier in the U.S.A. of premier hook loader systems and associated equipment.
Unlike many others, we also offer a complete selection of truck-mounted accessories and roll-on/off bodies that we can supply as a package with our hook loaders, allowing for single-source acquisition! Select from aerial lifts, cranes, grapple systems and more. Also choose from cement mixers, dump bodies, flatbeds, septic pumpers, waste containers, water tankers and other interchangeable bodies. In addition, you can select from our line of high-quality pre-owned hooklift vehicles.