Ampliroll Hooklift Featured Dealer: REFUSE EQUIPMENT AND TRUCK SERVICES, ASHTABULA, OH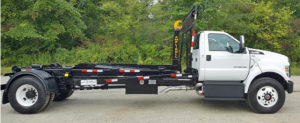 Businesses and municipalities alike throughout Ohio, Western New York and Western Pennsylvania have relied on Refuse Equipment an­d Truck Services (RETS) since 1988.
Operating under the banner of "Local People, Great Service," the company specializes in the sales and service of mobile and stationary equipment.
Serving the refuse and recycling industries in many ways
For over 30 years, RETS has provided site surveys as well as equipment recommendations, installations and service for compaction and baling systems throughout the tri-state area.
Adhering to the values of "Tried, Tested, and True," the company also offers Pak-Mor Refuse Bodies. In addition, they sell, install and maintain both hooklift and cable-hoist type roll-off systems for trucks.
Recommending one brand of hydraulic hook lifts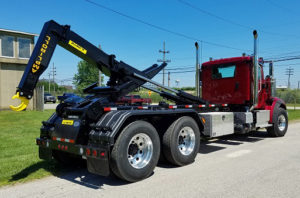 RETS' exclusive choice in hook loaders? Ampliroll Hydraulic Hooklift Systems.
When fitted to a single- or dual-axle chassis-and-cab combination, Ampliroll users can roll-on and haul as many truck bodies or containers as needed to support their operation. Typically, these roll-off bodies include compactor receivers, dump bodies, open-top containers, recycling containers and other types.
When Ampliroll hook loaders are used to handle roll-off bodies and containers, fleet operators including recyclers, scrappers, waste management firms and municipalities gain multiple advantages over alternative, cable-hoist systems:
Speed: With an Ampliroll hooklift, drivers can forego the cumbersome task of connecting a cable and winching aboard a body or container. With a hook loader like Ampliroll, it typically takes just two or three minutes to lift or drop a container. In business, it's said that time is money. And Ampliroll saves fleet operators time—enabling more loads per day.
Ease-of-operation: With Ampliroll Hydraulic Hooklift Systems, drivers don't need to waste time in perfectly positioning their vehicles. An Ampliroll hook loader can engage a body or container up to 30 degrees off-center when loading. This is one more reason why roll-off body and container changeovers are faster with hydraulic hooklifts from Ampliroll.
Safety: With Ampliroll, a hook loader driver can complete a drop-off or pick-up safely from inside the cab of the truck. In contrast, the operator of a cable-loader vehicle must get out of the cab, latch the cable to the body or container, and operate the controls outside. Ampliroll hooklift drivers face far fewer risks from slippery work surfaces or moving machinery.
Providing prompt, professional and dependable services
Ampliroll appreciates the strong vote of confidence that Refuse Equipment and Truck Services has placed in our brand of hydraulic hook loaders for roll-off truck bodies and containers.
RETS holds itself to the highest standards with the products they provide, the services they deliver and in every aspect of the work they do. The company's workforce is highly trained and well qualified to meet the refuse and recycling equipment needs of companies and municipalities alike.
Visit Refuse Equipment and Truck Services at 237 State Road, Ashtabula, Ohio 44004. Alternatively, call them at 440-992-3688 or 440-992-3432. You can also email them at retsinc@windstream.net.
For selection, savings and service, make Ampliroll your first choice in hooklift systems
Ampliroll Hooklift Systems are manufactured by Marrel – the inventor of the dual-pivot hook loader in 1969 and first again in bringing them to users across the U.S. in 1980. Today, Ampliroll is the only supplier in the U.S.A. of premier hook loader systems and associated equipment.
Unlike many others, we also offer a complete selection of truck-mounted accessories and roll-on/off bodies that we can supply as a package with our hook loaders, allowing for single-source acquisition! Select from aerial lifts, cranes, grapple systems and more. Also choose from cement mixers, dump bodies, flatbeds, septic pumpers, waste containers, water tankers and other interchangeable bodies. In addition, you can select from our line of high-quality pre-owned hooklift vehicles.