Ampliroll Hooklift Dealer Closeup: Carey Auto Truck Equipment Of Massachusetts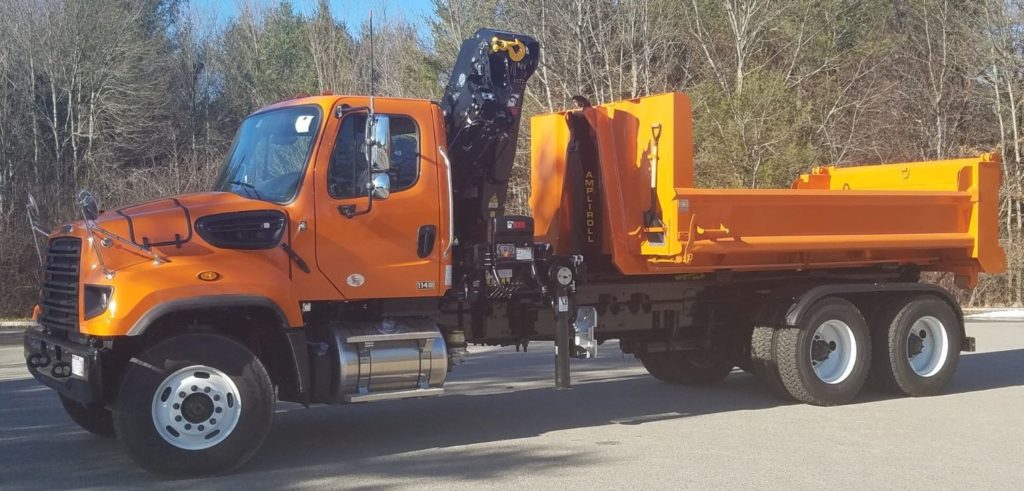 With over 25 lines of equipment, Carey Auto Truck Equipment of Plympton, Massachusetts is a "go-to" resource for all things truck-related in the Boston area and throughout New England.
Fleet operators, mobile service companies, municipalities and many others rely on them for custom truck bodies and truck equipment as well as repairs and roadside service.
They've earned a region-wide reputation for custom bodies that are manufactured to the highest standards. Since 1994, Carey Truck Equipment has built everything from flatbeds, dump bodies and stake trucks to just about any other custom body a truck owner can imagine.
Hook loaders for roll-on/off truck bodies are also a company specialty. Carey Truck Equipment has been building, installing and maintaining truck hooklift systems since 1994 with an emphasis on uncompromising quality.
"Our construction and quality standards are so rigid we simply will not ship a truck that does not meet these standards" notes Carey Truck Equipment's website. "Best of all, our truck lift systems don't just meet our standards and manufacturer standards, they meet (the user's) standards as well. The truck hook lift systems we install are designed and built to the most precise specifications."
Offering hydraulic hooklift systems from an industry leader — Ampliroll
Given Carey Truck Equipment's focus on quality and precision, it's no surprise that Ampliroll Hydraulic Hooklifts are a top recommendation when truck operators arrive seeking hook loader systems for roll-on/roll-off truck bodies.
The company's website states, "Ampliroll Hooklift Systems have built an unsurpassed reputation for reliability and excellence in design." It also says of Ampliroll, "Thanks to its many years of experience in the manufacture and use of high-pressure hydraulics, (they've) succeeded in producing a reduced-weight, very strong and maintenance-free hooklift system with a high level of safety."
With hook loaders supplied by Ampliroll and installed by Carey Truck Equipment, a fleet operator or truck owner also enjoys excellent flexibility. Just one hookloader cab-and-chassis matched with any number of roll-on/off bodies can quickly transform a single truck into a variety of hard-working vehicles.
For example, if you're a municipal fleet operator who needs a dump body one day, a chipper body the next day and perhaps a flatbed the day after, Ampliroll is the solution. When coupled with your choice in roll-on/roll-off truck bodies, Ampliroll Hydraulic Hooklifts deliver the flexibility you need.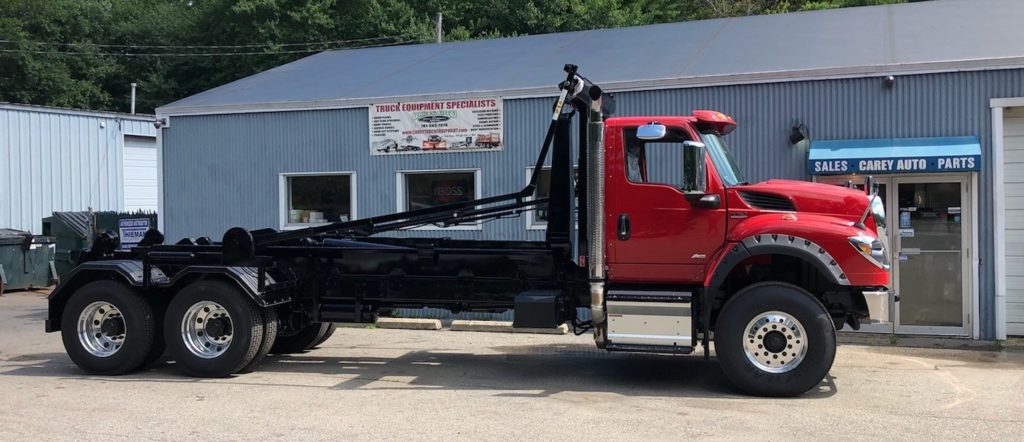 There's also the benefit of value. As mentioned, just one Ampliroll-outfitted truck with several roll-on bodies can do the work of many rigs. Operators can purchase fewer trucks. You'll also maintain, insure and license a smaller fleet.
What's more, with an Ampliroll Hydraulic Hooklift-outfitted truck, you can hire and train fewer drivers. That's no small advantage for owners of Ampliroll roll-on/off hook loaders, given that good operators are increasingly hard to find, let alone keep in today's economy!
For truck bodies, hooklifts and more, check out all that Carey Truck Equipment offers
Ampliroll appreciates the vote of confidence that Carey Truck Equipment has placed in our hook loaders.
If you're in New England, we suggest you visit their location at 37 County Rd, Plympton, MA 02367 for truck bodies, equipment and service. You can also call them at 781-582-1378 or email careyauto@comcast.net.
For selection, savings and service, make Ampliroll your first choice in hooklift systems
Ampliroll Hooklift Systems are manufactured by Marrel – the inventor of the dual-pivot hook loader in 1969 and first again in bringing them to users across the U.S. in 1980. Today, Ampliroll is the only supplier in the U.S.A. of premier hook loader systems and associated equipment.
Unlike many others, we also offer a complete selection of truck-mounted accessories and roll-on/off bodies that we can supply as a package with our hook loaders, allowing for single-source acquisition! Select from aerial lifts, cranes, grapple systems and more. Also choose from cement mixers, dump bodies, flatbeds, septic pumpers, waste containers, water tankers and other interchangeable bodies. In addition, you can select from our line of high-quality pre-owned hooklift vehicles.