The Fastest, Easiest Way to Finance Your Hook Loader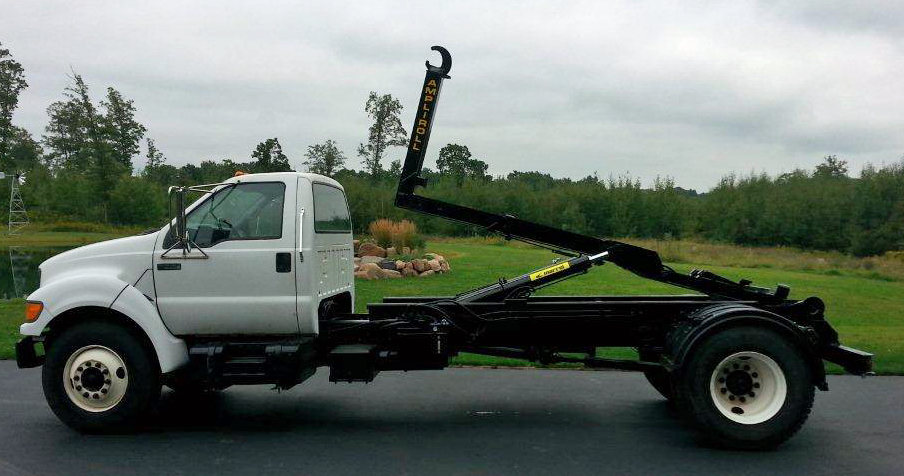 So, you've decided on a hydraulic hooklift system for your contracting, waste-hauling, municipality or other operation. Good choice. Many will confirm it's the most cost-effective way to obtain full value from a truck.
You can purchase one cab and chassis and equip it with a hydraulic hook loader that's weight-rated to your typical loads. You'll then purchase as many different roll-on/roll-off truck bodies as needed.
As a DOT manager, maybe you'll choose to use a paint striper platform one week, a guardrail maintenance utility body the next, a hopper salt spreader later in the year, and so on. A metal recycler, on the other hand, might drop off any number of scrap steel containers around town until they're filled and ready for pickup.
While certain truck bodies may be inactive as your needs change, your rig and driver certainly won't be! They'll stay fully productive — as much as 100% so! And, if extra efficiency is important, you'll proceed knowing that a hydraulic hook loader can haul more daily loads that than a get-out-of-the-cab-and-hook-up-a-cable-hoist alternative!
A hydraulic hooklift system is potentially less risky, too, because your driver operates the controls from an enclosed cab. Unlike that cable loader, they won't be pulling levers while standing next to moving machinery — or on a surface that can be icy or otherwise slick with, snow, rain, mud or grease.
But what about financing?
One of the most convenient ways to finance your purchase is through a lender recommended by your hydraulic hooklift system manufacturer or dealer.
On their website, for example, Ampliroll Hooklift Systems provides a one-click link for instant purchase financing application through CIT, formerly known as Direct Capital.
An award-winning bank, CIT has been recognized by publications from Forbes to Money magazine for their innovative approach to banking. One area of expertise and experience is commercial vehicle financing of the type you'd use to acquire a hydraulic hook loader.
As many have found, operating a hydraulic hooklift system is easy and, so too, is the financing!
For selection, savings and service, make Ampliroll your first choice in hydraulic hooklift systems.
Ampliroll Hooklift Systems are manufactured by Marrel – the inventor of the dual-pivot hook loader in 1969 and first again in bringing them to users across the U.S. in 1980. Today, Ampliroll is the only supplier in the U.S.A. of premier hook loader systems and associated equipment.
Unlike many others, we also offer a complete selection of truck-mounted accessories and roll-on/off bodies that we can supply as a package with our hook loaders, allowing for single-source acquisition! Select from aerial lifts, cranes, grapple systems and more. Also choose from cement mixers, dump bodies, flatbeds, septic pumpers, waste containers, water tankers and other interchangeable bodies. In addition, you can select from our line of high-quality pre-owned hooklift vehicles.