Hook Loaders: Three Ways They're Engineered For Hydraulic Safety
By now, most fleet operators know the benefits of hydraulic hook loaders. By purchasing a single chassis and equipping it with a hooklift system, you can outfit your rig it with as many roll-on/off truck bodies as needed. The tanker you operate Tuesday can become a dumper on Wednesday, a flatbed on Thursday, and so on.
Through hydraulics, you'll gain efficiency that that cable-hoist loaders can't match. Their operators have to leave the cab to attach and detach cables to the roll-on/off truck bodies. Not so with hooklifts. A hydraulically operated jib-and-hook system does the work while the driver controls all operations from within the cab.
Bottom line? While cable-hoist operators are still working outside, your drivers are on their way to the next stop!
But are the hydraulic systems on hook loaders safe? While any mechanical system is, of course, subject to occasional failure, three engineering features help to ensure the safe and reliable operation of hook loaders. When evaluating your options, make sure your choice includes this engineering: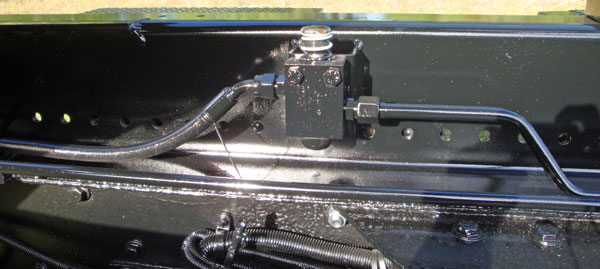 Jib safety valve: This valve protects the hooklift system from damage if the driver accidentally pulls the wrong control lever during the unit's dump cycle.
Counterbalance valve: Sometimes termed an over-center valve or a load-holding valve, this valve prevents a potential load "free fall" in the event of hydraulic failure by locking the lift/dump cylinder securely in-place.
Dump-mode locking device. Also called a hydraulic lock-out device, this feature prevents operation of the tilt section when the hook loader is the dumping mode.
For selection, savings and service, make Ampliroll your first choice in hydraulic hooklift systems.
Ampliroll Hooklift Systems are manufactured by Marrel – the inventor of the dual-pivot hook loader in 1969 and first again in bringing them to users across the U.S. in 1980. Today, Ampliroll is the only supplier in the U.S.A. of premier hook loader systems and associated equipment.
Unlike many others, we also offer a complete selection of truck-mounted accessories and roll-on/off bodies that we can supply as a package with our hook loaders, allowing for single-source acquisition! Select from aerial lifts, cranes, grapple systems and more. Also choose from cement mixers, dump bodies, flatbeds, septic pumpers, waste containers, water tankers and other interchangeable bodies. In addition, you can select from our line of high-quality pre-owned hooklift vehicles.