Talking Trash: Three Ways Hooklifts Prove Their Worth Hauling Refuse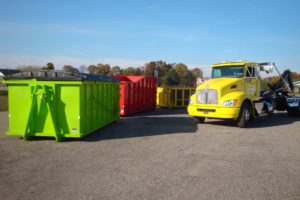 According to the Environmental Protection Agency's National Overview: Facts and Figures on Materials, Wastes and Recycling, Americans produce on average no less than 4.4 pounds of municipal solid waste (MSW) per day. Among us all, that's 262.4 million tons per year heading to landfills, recyclers, composting sites and combustion/energy recovery centers.
Much of this MSW is handled, of course, by fleets of garbage trucks. But a good portion of it is hauled by roll-on/off containers on trucks equipped with hydraulic hooklifts.
With their ability to quickly drop-off an empty container at a site and pick-up a full one for a trip to the landfill, scrap yard or elsewhere, hook loaders make great sense in waste-hauling operations.
No dedicated rigs remain on-site. Whenever the empty roll-on/off container is filled with refuse, the full-for-empty exchange can occur again and again with a hook loader truck. Because of this efficiency, their waste-hauling applications often include:
Construction: Building a house or a commercial structure generates a considerable amount of waste lumber, sheeting, bricks, shingles and other materials that must be transported from the site. Of course, if the construction is slated for a location that must be cleared of debris, a roll-on/off container will be used to load the vegetation, rubble or other debris before building commences.
Cleanouts and cleanups: In many cases, demolition comes about not as a planned activity but the result of an accident, crime or act of nature. We're talking about the destruction that occurs due to storms, fires and other disasters. Here, hooklift trucks that haul roll-on/off containers are a smart choice for removing building debris, fallen trees and the like. 
Demolition: When a structure of any kind gets demolished, the remains have to be carted offsite and hauled elsewhere. With their rugged construction, high capacity and ability to stay on location until filled, roll-on/off containers are an ideal solution for this form of waste hauling.
The question is always asked if cable loader trucks with roll-on/off containers can accomplish the same as hooklifts?  The answer, of course, is yes — only not as efficiently.
With no cables to attach and disconnect, hook loader operators can roll on and roll off refuse containers in a fraction of the time as their cable hoist counterparts.
The result? Hooklift drivers can make several extra trips per shift compared to cable loaders. And that's the kind of trash talk that most fleet operators are only too happy to hear.
For selection, savings and service, make Ampliroll your first choice in hydraulic hooklift systems.
Ampliroll Hooklift Systems are manufactured by Marrel – the inventor of the dual-pivot hook loader in 1969 and first again in bringing them to users across the U.S. in 1980. Today, Ampliroll is the only supplier in the U.S.A. of premier hook loader systems and associated equipment.
Unlike many others, we also offer a complete selection of truck-mounted accessories and roll-on/off bodies that we can supply as a package with our hook loaders, allowing for single-source acquisition! Select from aerial lifts, cranes, grapple systems and more. Also choose from cement mixers, dump bodies, flatbeds, septic pumpers, waste containers, water tankers and other interchangeable bodies. In addition, you can select from our line of high-quality pre-owned hooklift vehicles.