Spotlight On Amick Equipment: Six decades in the business, this distributor knows a good hook loader.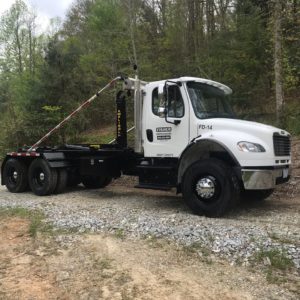 You don't thrive in the competitive street and sanitation business since 1959 without learning a thing or two about quality and value. That's why Amick Equipment of Lexington, South Carolina has connected with Ampliroll-brand hooklifts. On their website, they write:
"Pulling cans of debris, sludge or concrete? You need a hoist that has the power and strength to do it day in and day out! Ampliroll hooklifts have you covered!"
Now in its 60th year of operation, the distributor grew steadily, expanded into North Carolina and is today one of the largest distributors for refuse collection equipment in the country.
Municipalities, scrap metal recyclers, contractors and others in need of equipment can rely on Amick for rear loaders, front loaders, side loaders, grapple loaders, and street sweepers. They offer a selection of work-ready trucks. From small dump beds to cart lifters and camera systems, users also can count on the distributor for specialty bodies and accessories.
Of course, roll-offs and hook loaders are an important part of Amick's product selection. They recognize the value of both types of container hoist systems.
"No commercial fleet can be complete without a roll-off or hooklift truck. Both are designed to lift and haul the heaviest of loads in both a residential and commercial application."
Amick also acknowledges a key benefit of Ampliroll hook loaders over cable pullers.
"The Ampliroll uses the hooklift system as a means of lifting, sliding and unloading the container. The advantage of the hooklift is the driver doesn't need to exit the vehicle when loading and unloading."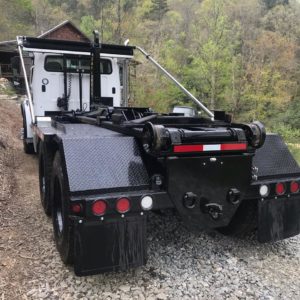 The fact that an Ampliroll hook loader driver can operate from the comfort — and safety — of their cab also points to other hydraulic hooklift plusses. These include faster loading and reduced risk of injury. Operators are not exposed to moving machinery when operating controls or hooking up heavy cables on snowy, muddy, rain-slick or otherwise slippery surfaces.
Your source for hooklifts and more, check out all that Amick Equipment offers.
With locations in Mebane, North Carolina as well as Lexington, South Carolina, anyone in the region who is in the refuse or street  sanitation business should be sure to call or visit. New and used equipment, as well as customer-built equipment plus replacement parts, repair services, preventive maintenance and equipment consulting, are all solutions you'll find at Amick.
Amick and Ampliroll — proving their worth again and again to Fisher Dumpster.
One big believer in the service of Amick Equipment and the ruggedness of Ampliroll hook loaders?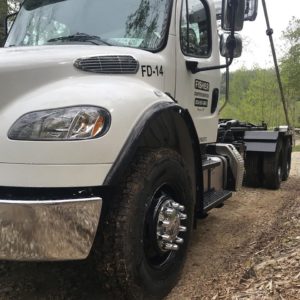 Fisher Dumpster Services. Located in Rosman, North Carolina and servicing western North Carolina and upstate South Carolina, the roll-off container service operates a fleet of six Ampliroll Hooklift trucks — all acquired from Amick Equipment. With 15-yard, 20-yard and 30-yard containers, Fisher Dumpster has trucks that can fit almost every situation.
For selection, savings and service, make Ampliroll your first choice in hydraulic hooklift systems.
Ampliroll Hooklift Systems are manufactured by Marrel – the inventor of the dual-pivot hook loader in 1969 and first again in bringing them to users across the U.S. in 1980. Today, Ampliroll is the only supplier in the U.S.A. of premier hook loader systems and associated equipment.
Unlike many others, we also offer a complete selection of truck-mounted accessories and roll-on/off bodies that we can supply as a package with our hook loaders, allowing for single-source acquisition! Select from aerial lifts, cranes, grapple systems and more. Also choose from cement mixers, dump bodies, flatbeds, septic pumpers, waste containers, water tankers and other interchangeable bodies. In addition, you can select from our line of high-quality pre-owned hooklift vehicles.