Municipal Equipment Leader Rolls with Ampliroll!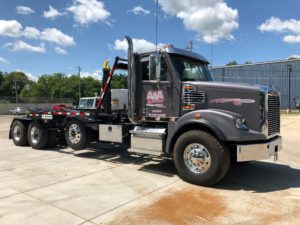 Across the Midwest, private waste haulers and government entities alike rely on West Allis, Wisconsin-based RNOW for comprehensive municipal refuse solutions.
Established in 1992, the company sells and services new and pre-owned garbage trucks, recycling equipment, totes and carts. RNOW is the region's go-to source for street sweepers, combination sewer-jetters and multi-service tractors. It also offers municipal equipment including hook lifts, flail mowers and more.
Choosing a hydraulic hook loader system
When it came time for the municipal supply leader to select a hook loader, their choice was clear: Ampliroll hook lift products. As described on their website:
"Marrel has been manufacturing Ampliroll municipal hook lift equipment for over 40 years. The Ampliroll hook lift system is recognized for achieving Best in Class Life Span and Best in Class Payload. A form fit jib, superior ground level loading and user-friendly operation make the Ampliroll hook-lift system a premier choice for a variety of municipal industries."
On their site, the company had other praise for Ampliroll hydraulic hook loader equipment:
"As an expert in the field, RNOW elected to include Marrel hook lift products within our circle of trusted manufacturers. RNOW offers Ampliroll hook lifts for sale and for municipal equipment rental. Rented or purchased, the Marrel hook lift is available through RNOW in Wisconsin, Illinois, Indiana, Michigan, Minnesota and throughout our Midwest service area. RNOW prides itself on supplying our customers with the highest quality, American made equipment from the leading municipal equipment manufacturers."
Offering a wide selection of lift capacities
RNOW lists no fewer than 10 Ampliroll hydraulic hook loaders on their website These begin with the Ampliroll AL35E with a lifting capacity of 6,600 lbs. Hooklift selections from Ampliroll extend up to the Ampliroll 160/2000-22, which handles a lifting capacity of 65,000 lbs.
Those familiar with hook loaders know that operators outfit a cab and chassis with a hydraulic hooklift from Ampliroll. They can then roll-on and roll-off as many different truck bodies as needed. One truck can do the work of several rigs, with many cab/chassis/hook-loader combinations reaching near 100% utilization.
Delivering significant roll-on/off advantages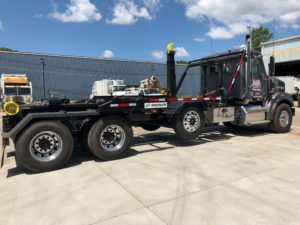 Those considering a hooklift from Ampliroll should consider these fleet operator advantages to hook loaders, as noted on RNOW's website:
With Ampliroll hydraulic hooklifts, the driver never leaves the cab. This saves time and is safer.
Maximum dump angle is almost 20% greater than conventional roll-offs.
The operator can pick-up or set-down a container at loading-dock heights.
Containers can be pushed and spotted more accurately, with no chance of damaging the container front.
Truck alignment is not necessary. The operator may approach from any angle within a 60º arc.
Checking in on municipal equipment leader
A family-owned operation, RNOW prides itself on providing the most comprehensive municipal refuse solutions across the Midwest. If you're located in or near Illinois, Indiana, Michigan, Minnesota or Wisconsin, be sure to call or visit.
For selection, savings and service, make Ampliroll your first choice in hydraulic hooklift systems.
Ampliroll Hooklift Systems are manufactured by Marrel – the inventor of the dual-pivot hook loader in 1969 and first again in bringing them to users across the U.S. in 1980. Today, Ampliroll is the only supplier in the U.S.A. of premier hook loader systems and associated equipment.
Unlike many others, we also offer a complete selection of truck-mounted accessories and roll-on/off bodies that we can supply as a package with our hook loaders, allowing for single-source acquisition! Select from aerial lifts, cranes, grapple systems and more. Also choose from cement mixers, dump bodies, flatbeds, septic pumpers, waste containers, water tankers and other interchangeable bodies. In addition, you can select from our line of high-quality pre-owned hooklift vehicles.