Maryland Industrial Trucks hooks up with Ampliroll
Founded in 1979 and today serving customers in Maryland, Delaware, Virginia, Washington, D.C. and the surrounding areas, Maryland Industrial Trucks, Inc.  (MIT) is the region's go-to source for lift trucks, material handling equipment, industrial trucks, sweepers/scrubbers, litter collection equipment, asphalt equipment, New Way Refuse trucks, Brush Hawg grapple loaders and sewer/inspection systems.
Maryland Industrial Trucks is known nationwide to meet all the industry's application needs. And, that's why it's gratifying to know they evaluate no hydraulic hooklift system higher than Ampliroll!
On their website, MIT endorses Ampliroll equipment this way: "All Ampliroll® hooklift products are designed to be cost-efficient, durable with a life span of over 25 years, easy to operate and the best in class in payload. They have virtually an endless variety of attachments.
"The complete line of Ampliroll® hooklift products provide a wide range of application uses with an unsurpassed reputation for quality, durability and over 45 years of proven performance with lifting capacities ranging from 6,000 – 60,000 lbs."
Ampliroll: Also their choice for tandem axle hook loaders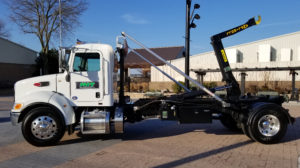 MIT has similarly good things to say about the safety of Ampliroll products: "Ampliroll® hooklift systems are lightweight, ruggedly strong and maintenance-free with a high level of safety. They only need less than a minute to load bodies.
"Ampliroll® hooklift systems are designed to pick up, dump, haul, and off-load containers quicker, safer and easier than alternative methods."
Ampliroll: A selection that MIT makes with confidence
Why the recommendation of Ampliroll Hydraulic Hooklift Systems for reuse & debris collection operations? Maryland Industrial Trucks cites these benefits, among many others. Ampliroll models:
Allow you to pull another body on a trailer to double your payload
Enable dock-level loading and unloading
Feature safe, driver's seat operation
Last as long as 25+ years — an investment that can outlast your truck
Load roll-on/off truck bodies in less than one minute
Meet all highway safety standards
Offer the maneuverability to load containers within a 60-degree arc
Place containers exactly where you want them
Maryland Industrial Trucks, Inc. has even more good things to say about Ampliroll Hookloaders. If you are in or near Maryland, be sure to call or visit.
For selection, savings and service, make Ampliroll your first choice in hydraulic hooklift systems.
Ampliroll Hooklift Systems are manufactured by Marrel – the inventor of the dual-pivot hook loader in 1969 and first again in bringing them to users across the U.S. in 1980. Today, Ampliroll is the only supplier in the U.S.A. of premier hook loader systems and associated equipment.
Unlike many others, we also offer a complete selection of truck-mounted accessories and roll-on/off bodies that we can supply as a package with our hook loaders, allowing for single-source acquisition! Select from aerial lifts, cranes, grapple systems and more. Also choose from cement mixers, dump bodies, flatbeds, septic pumpers, waste containers, water tankers and other interchangeable bodies. In addition, you can select from our line of high-quality pre-owned hooklift vehicles.