Do you have trouble finding qualified truck drivers?
Solution: Use fewer drivers. Let one rig do the work of several with hydraulic hooklifts
If it's difficult for you to hire, train and retain quality truck drivers, you are not alone. In a recent article in Transport Topics, Chief Economist Bob Costello of the American Trucking Association estimates that the industry is short at least 50,000 drivers.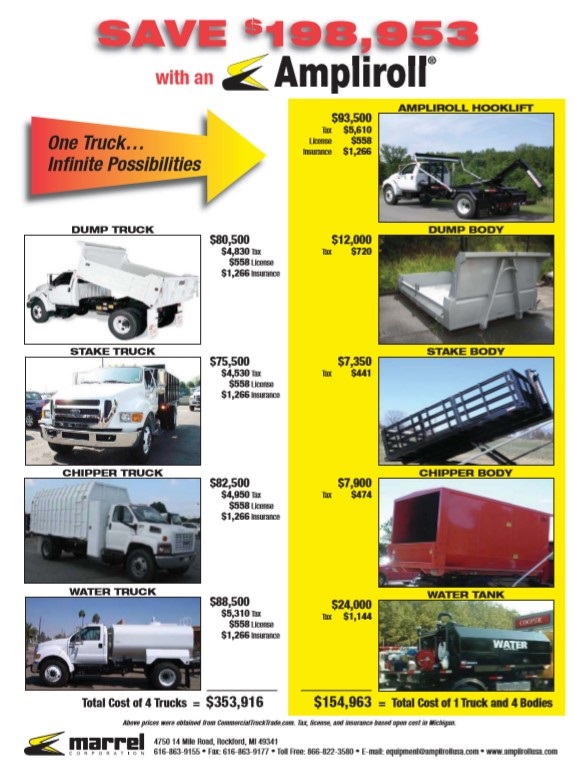 Don't blame retiring baby boomers. Instead, look toward our booming economy!
"It's not that the number of truck drivers has been in a constant decline," Costello said. "It's just that it's not growing enough to match up with what has been needed with demand."
So, what's a fleet operator to do if confronted with a driver shortage?
Instead of adding operators, many are adding truck bodies — as in the type you roll on and off of hydraulic hook loaders. A proven solution, they've been a popular choice for contractors, municipalities, scrap recyclers, waste haulers and other users for many years.
The concept is simple. You can purchase a single cab and chassis, equip it with a hooklift system and outfit it with as many interchangeable bodies as needed. A highway department, for example, might go with a dump body, tanker, paint striper attachment and salt spreader body for use over successive days or during differing seasons.
You'll realize many benefits to this "multi-tasking" solution. With hydraulic hooklift trucks, you can:
Hire, train, pay and insure fewer truck drivers
Acquire, license and insure a smaller fleet
Gain nearly 100% utilization from each vehicle
Add needed pieces of equipment whose utilization doesn't justify a dedicated rig
Of course, many will say cable-hoist loaders can do the same. And, up to a point, they're right. But hooklifts do it better. Loading and unloading is faster, enabling more loads per shift.
Drivers also operate hydraulic hook loaders from the safety of their cabs. They don't stand outside next to moving machinery as do operators of cable loaders, whose controls are located outdoors to the rear of the cab. Of course, they also avoid inclement weather and the slick work surfaces that often come with it.
For selection, savings and service, make Ampliroll your first choice in hydraulic hooklift systems.
Ampliroll Hooklift Systems are manufactured by Marrel – the inventor of the dual-pivot hook loader in 1969 and first again in bringing them to users across the U.S. in 1980. Today, Ampliroll is the only supplier in the U.S.A. of premier hook loader systems and associated equipment.
Unlike many others, we also offer a complete selection of truck-mounted accessories and roll-on/off bodies that we can supply as a package with our hook loaders, allowing for single-source acquisition! Select from aerial lifts, cranes, grapple systems and more. Also choose from cement mixers, dump bodies, flatbeds, septic pumpers, waste containers, water tankers and other interchangeable bodies. In addition, you can select from our line of high-quality pre-owned hooklift vehicles.