Lube Truck Leader Partners with Ampliroll Hooklifts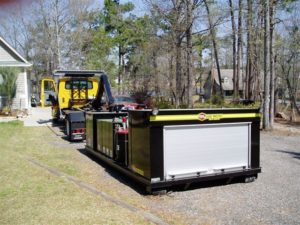 Fleet operators, miners and contractors get an efficient new worksite support solution.
Lube trucks of the type produced by industry leader Taylor Pump & Lift of Concord, North Carolina help trucking fleets and heavy equipment operate at peak efficiency.
Outfitted with various tanks, hose reels, generators, pumps and more, these units keep vehicles topped up with antifreeze, grease, lubricants and other vital fluids.
Operators have long enjoyed several options, depending on the size of their operation.
Traditional solutions: Lube trucks, skids and trailers
Larger fleets often invest in dedicated lube trucks. The choice of big construction, demolition and mining companies, most are custom built, and many are parked on-site to reduce downtime.
Smaller operators meet their needs with lube skids. These are sized to fit onto pickup truck beds. For off-road applications, some are built for loading on utility task vehicles (UTVs).
Lube trailers have been — and still are — a popular choice for many mid-size users. They're larger than a skid but are smaller and more affordable than a dedicated truck. Trailers can be dropped off at any job site, providing operators with a ready source of fluids.
 A better way: lube hook lift packages
Now, lube truck roll-on/off bodies produced in partnership with Ampliroll are proving to be a smart solution for many users.
As Taylor Pump & Lift notes, a roll-off/off hook lift is "perfect for the company that already owns a hook lift truck and desires to improve maintenance efficiency for its fleet of vehicles. Roughly the same size as a large lube trailer and slightly smaller than a full-scale lube truck, a hook lift bed meets the maintenance needs of a large job site with high levels of convenience and ease of transportation."
Trucking fleets, mining operations and construction/demolition firms that are not yet operating a hook loader-equipped cab-and-chassis might benefit from doing so.
Taylor Pump & Lift says, "the (hook) lift mechanism allows for convenient loading/unloading of the lube body for transportation, leaving the truck itself free while the lube body remains on the job site. This system makes it possible for the truck body to function with other applications, such as a water tank system, dump truck attachment, or flatbed attachment."
The firm goes on to state, "If your company does not yet own a hook lift truck, Taylor Pump & Lift can help you add this incredibly versatile, efficient system to your fleet. We work closely with Ampliroll, a pioneer and long-established leader in the field, to build hook lift trucks for our clients."
 A hook loader's advantage over lube trailers
Given the sameness in the functionality of lube trailers and lube roll-on/off truck bodies, operators might wonder which system is best. Taylor Pump & Lift addresses a key benefit below:
"Security is a major advantage of the hook lift bed over a lube trailer, which is similarly sized and carries a similar amount of equipment. Due to its size and weight, a hook lift bed is nearly impossible to lift and remove without an actual hook lift truck. This allows for leaving the bed on site overnight without the concern that thieves could hitch the equipment to a pickup truck and simply drive away with it."
For selection, savings and service, make Ampliroll your first choice in hydraulic hooklift systems.
Ampliroll Hooklift Systems are manufactured by Marrel – the inventor of the dual-pivot hook loader in 1969 and first again in bringing them to users across the U.S. in 1980. Today, Ampliroll is the only supplier in the U.S.A. of premier hook loader systems and associated equipment.
Unlike many others, we also offer a complete selection of truck-mounted accessories and roll-on/off bodies that we can supply as a package with our hook loaders, allowing for single-source acquisition! Select from aerial lifts, cranes, grapple systems and more. Also choose from cement mixers, dump bodies, flatbeds, septic pumpers, waste containers, water tankers and other interchangeable bodies. In addition, you can select from our line of high-quality pre-owned hooklift vehicles.