BE SURE TO SEE AMPLIROLL AT WASTEEXPO 2022 ON MAY 10-12 IN LAS VEGAS—AND BE OUR GUEST WITH A FREE PASS!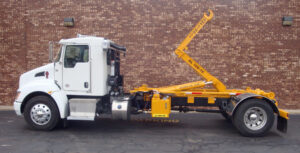 The leading solid waste event in North America, WasteExpo welcomes thousands of visitors, exhibitors and industry experts. They meet here to buy, sell and gather information on the latest services and products—including those from Ampliroll Hydraulic Hooklifts.
Fleet managers and equipment purchasers are invited to visit Ampliroll at Booth #3705 during the show at the Las Vegas Convention Center (West Hall) this May. Get your FREE PASS by clicking on this link, registering as an Attendee and entering code CR7.
We'll display a new Mack MD-Series 33,000 GVW single-axle cab-and-chassis, provided courtesy of Freightliner of Broward (Florida). Outfitted for waste hauling and scrap operations, the rig features an Ampliroll AL100L-16 hoist with a 20,000-lb. lifting capacity. It mounts a Thompson Fabricating 16-foot/20-yard hooklift container topped with a Roll-Rite Dual-Stage Adjustable Gantry Tarp System.
Don't miss this opportunity! It's your chance to examine Ampliroll's industry-leading hydraulic hooklift technology and ask questions of our expert representatives. You'll discover first-hand that Ampliroll Hooklift Systems deliver many advantages, including:
Excellent selection: Ampliroll offers hydraulic hooklifts with lifting capacities from 13,000 lbs. to 65,000 lbs. You'll also choose from a full range of roll-on/off truck bodies plus a complete array of cranes, lifts and other accessories. We even offer financing.
Full customization: You can meet almost every operational need with Ampliroll. We can engineer and install practically any type of truck-mounted equipment on your hooklift system. If you don't see what you're looking for in a truck body or accessory, just ask.
Safer operations: Ampliroll's in-cab controls don't expose your drivers to moving machinery or slippery work surfaces like cable loaders do with their truck side-mounted levers. Of course, our cab-operated controls reduce your exposure to costly worker's compensation claims, too.
For selection, savings and service, make Ampliroll your first choice in hydraulic hooklift systems.
Ampliroll Hooklift Systems are manufactured by Marrel – the inventor of the dual-pivot hook loader in 1969 and first again in bringing them to users across the U.S. in 1980. Today, Ampliroll is the only supplier in the U.S.A. of premier hook loader systems and associated equipment.
Unlike many others, we also offer a complete selection of truck-mounted accessories and roll-on/off bodies that we can supply as a package with our hook loaders, allowing for single-source acquisition! Select from aerial lifts, cranes, grapple systems and more. Also choose from cement mixers, dump bodies, flatbeds, septic pumpers, waste containers, water tankers and other interchangeable bodies. In addition, you can select from our line of high-quality pre-owned hooklift vehicles.
Get your FREE PASS to WasteExpo 2022 courtesy of Ampliroll.
Click on this link, register as an Attendee and enter code CR7. Then be sure to stop by Booth #3705. See you there!