Ampliroll Product Spotlight: Company to showcase its hydraulic hooklift systems, roll-on truck bodies and more at The Work Truck Show 2018 in Indianapolis on March 6-9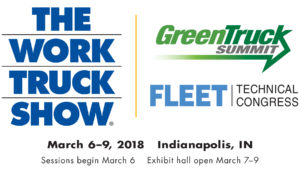 Wherever you find work trucks and work truck buyers, you'll find Ampliroll.
This will certainly be the case on Tuesday, March 6 through Friday, March 9 when Ampliroll – the world's inventor and America's #1 provider of hooklift systems – displays its many industry-leading solutions at The Work Truck Show 2018 at the Indianapolis Convention Center.
Those attending the show can expect to learn first-hand that:
Ampliroll Hooklift Systems deliver best-in-class lifespans, best-in-class payloads.
Ampliroll Hooklift Systems let you load a single chassis with many different bodies. For example, you can roll on a Crane/flatbed combination one day, a tanker the next, and an aerial lift, the next and so on. Many truck buyers save substantially by purchasing just one truck and getting 100% utilization of that vehicle while saving on registration fees and insurance costs common to multiple chassis's.
Ampliroll offers Ampliroll-Branded Truck Bodies. These include chippers, dump boxes, water tankers, septic pumpers, aerial lifts to 48' working height, cranes, and more. No other hooklift competitor matches this; it's an Ampliroll exclusive!
Ampliroll simplifies after-sales service when you specify Ampliroll Hooklifts and Ampliroll-Branded Truck bodies as a "package." Contractors, municipalities and others that are interested in hydraulic hooklift systems gain speed and convenience.
 Ampliroll Hooklift Systems can reduce the potential for driver injury. How? Cable loaders stand outside, right next to moving machinery. Ampliroll Hooklift System operators avoid any such risk by working inside the cab.
Hydraulic hooklift systems from Ampliroll are designed to pick up, dump, transport and unload containers safer and faster. That means larger profits and/or lower expenses for contractors, municipalities and others.
For selection, savings and service, make Ampliroll your first choice in hydraulic hooklift systems.
Ampliroll Hooklift Systems are manufactured by Marrel – the inventor of hooklifts in 1969 and first again in bringing them to users across the U.S. in 1980. Today, Ampliroll is the nation's leading provider of hooklift systems. Of course, we also offer high-quality pre-owned hook lift vehicles.
Attending The Work Truck Show 2018? Get your FREE Pass then stop by Booth #2601 to see all that's new with us.