Buying Used Hooklifts: 7 tips
While many contractors and municipalities would prefer buying new, purchasing a used hooklift can oftentimes net you a true bargain. That said, pre-owned hooklift systems often undergo hard service. Other used hooklift bodies are poorly maintained or outright abused – and promise the buyer many a headache down the road!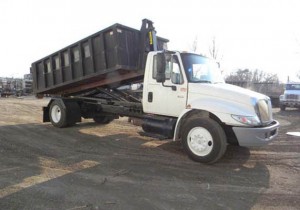 Still, with the great number of used hooklift trucks and used hooklift trailers on the market, locating a hooklift system with miles and miles of useful service remaining need not be too difficult. When buying a used hooklift, follow these seven tips:
Purchase from a reputable hooklift dealer: Poor maintenance habits, overloading or operator misuse doesn't automatically disqualify a used dump truck or other pre-owned hooklift vehicle from purchase. But they are all caution flags! If purchasing a used hooklift truck on your own, you may miss the related wear and tear. But a reputable used hooklift truck dealer should be able to identify any problems, correct them, and stand behind their work.
Check the hooklift truck drivetrain: Used dump trucks and other pre-owned hooklift vehicles have many moving parts – most of which come under enormous stress during day-to-day operations. That said, one of the first things you'll want to check would be the engine and drivetrain. If the used hooklift truck you're considering has engine oil or transmission fluid leaks, then the chance of engine or transmission damage is high. Work with your trusted pre-owned hooklift vehicle dealer to investigate every leak and repair broken parts, if necessary. One good indication that your hooklift truck dealer is serious about selling quality pre-owned hooklift vehicles? A drivetrain warranty.
Inspect the hooklift electrical system: When operating hooklift trucks, the temperature of some parts reaches very high levels – especially in the engine compartment. Loose rubber hoses and poorly fitting wiring harnesses can come into contact with the hot motor. This can lead to shorts in the electrical system, leaks in the hoses … or both. This is why it pays for a pre-owned hooklift vehicle dealer to inspect your used hooklift vehicle carefully before you buy!
Examine the hooklift hoist and hydraulics: Because the hooklift hoist is attached to the truck's frame, this area earns a complete inspection. An experienced used hooklift truck dealer will check to make sure the frame has no major cracks or rust, and is straight. The hoist should also be inspected. The used hooklift dealer/seller and you are on the lookout for danger signs like bent rails, cracks or rust.
Look at the hoist pins: The preowned hooklift vehicle dealer will also want to examine the hoist pins where the frame and hoist connect. While some wear can be expected, make sure they're not damaged.
Check the rear cam rollers. Damaged rear cam rollers should be replaced by the used hooklift truck dealer to ensure all are in proper working condition.
Inspect the jib blocks and springs. Be sure the jib blocks function properly and are not broken. Know that some hooklift hoists feature helper springs. These provide tension and assist in the moving of some working parts too small for hydraulics. Have your preowned hooklift vehicle dealer check these springs to make sure none are broken or severly worn.
For selection, savings and service, make Ampliroll your first choice in hydraulic hooklift systems.
Ampliroll Hooklift Systems are manufactured by Marrel – the inventor of hooklifts in 1969 and first again in bringing them to users across the U.S. in 1980. Today, Ampliroll is the nation's leading provider of hooklift systems. Of course, we also offer high-quality pre-owned hooklift vehicles.