Ampliroll Hooklift Featured Dealer: S&L WASTETECH INC., CASSELMAN, ONTARIO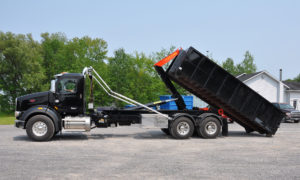 S&L WasteTech Inc. meets the needs of garbage disposal operations, landscapers, demolition companies and others with waste-removal containers. A perfect complement to trucks hauling roll-on/off containers, the company is also a distributor for Ampliroll Hydraulic Hooklift Systems.
Companies, municipalities and owner-operators can select from standard-model containers or have one custom-designed for their specific needs.
Offering a full line of containers and roll-on/off products
With S&L WasteTech, clients gain an experienced resource for containers of all types. They can also rely on the company for roll-on/off equipment from leading manufacturers:
Ampliroll Hooklift Systems
Compactors & Containers
Front- & Rear-load Containers
Hooklift Containers
Landscape Containers
Flatbeds & Platforms
Hooklift Dumpbox Containers
Roll-off Containers
Roll-off Systems
Meeting a variety of needs with special equipment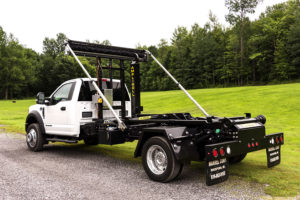 Customers throughout Ontario rely on S&L WasteTech for all their truck equipment requirements. Whether provided in a standard style or custom fabricated to individual specifications, the company offers:
Tipping Bins
Clamp Boxes
Chipper Boxes
Tonka Buggies
Water Tank Platforms
Miscellaneous Bins
Distributing Ampliroll-brand hydraulic hook loaders
Scrappers, landscapers, highway departments and others seeking a top-brand hook loader can rely on Ampliroll Hooklifts as offered by S&L WasteTech. In choosing hook loaders from Ampliroll, fleet managers and owner/operators get:
Excellent selection: Offered in many models, Ampliroll Hooklifts have container-lifting capacities ranging from 13,000 lbs. up to 65,000 lbs.
Better performance: High-pressure (i.e., 5,000 psi) pumps of the type offered by Ampliroll are the system of choice of 75% of hook loader manufacturers in North America and around the world—rapidly taking the place of less-efficient, low-pressure (i.e., 3,000-3,500 psi) alternatives.
Greater precision: By using the most up-to-date production processes including laser cutting and robotic welding, Ampliroll Hooklifts eliminate the need for extra parts or "make-do" components. This precision engineering eliminates the shims or wear pads that can sometimes be found on competitive products.
Enhanced safety: Workers operate Ampliroll's in-cab controls from the safety of their driver's seat. They are not exposed to moving machinery or slippery work surfaces like cable loaders do with their truck side-mounted levers. Of course, Ampliroll cab-operated controls reduce fleet owner exposure to costly worker's compensation claims, too!
More efficiency: Ampliroll users regularly report hauling more loads per shift. Because drivers do not need to get out of the cab to attach or retrieve cables, Ampliroll Hooklifts load (and unload) in a fraction of the time as cable hoists!
Providing the personalized service that comes from a family-run business
Owned and operated by Luc and Sandra Valkenborg, S&L WasteTech Inc. celebrated 30 years in business in 2020.
Today, the company continues to grow. In fact, two of Luc and Sandra's five daughters now work for the family business. They're supported by an experienced team of employees that continues to help meet customer needs for standard-size and custom-fabricated containers as well as related equipment like Ampliroll Hydraulic Hooklifts.
Contractors, landscapers, municipalities, owner-operators, scrappers, waste-haulers and others are invited to visit or contact the company at:
S&L WasteTech Inc.
2142 County Road 16
Casselman, ON, K0A 1M0
Phone: 613-764-0541
E-mail: luc@slwastetech.com
www.slwastetech.com
For selection, savings and service, make Ampliroll your first choice in hooklift systems
Ampliroll Hooklift Systems are manufactured by Marrel – the inventor of the dual-pivot hook loader in 1969 and first again in bringing them to users across the U.S. in 1980. Today, Ampliroll is the only supplier in the U.S.A. of premier hook loader systems and associated equipment.
Unlike many others, we also offer a complete selection of truck-mounted accessories and roll-on/off bodies that we can supply as a package with our hook loaders, allowing for single-source acquisition! Select from aerial lifts, cranes, grapple systems and more. Also choose from cement mixers, dump bodies, flatbeds, septic pumpers, waste containers, water tankers and other interchangeable bodies. In addition, you can select from our line of high-quality pre-owned hooklift vehicles.