Ampliroll Hooklift Featured Dealer: CYNCON EQUIPMENT, RUSH, NEW YORK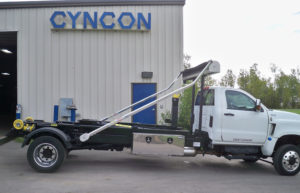 Cyncon Equipment is the state of New York's premier municipal and truck equipment dealer. A leading resource for over 40 years, they carry the industry's top brands of truck body equipment—including Ampliroll Hydraulic Hooklifts.
Municipalities, contractors, landscapers and others also know them as a full-service provider of refuse collection and street sweeping products as well as snow- and ice control equipment.
Customers in private industry and municipalities across the Empire State look to the company for expert advice, top-quality installations and ongoing assistance with equipment including:
Dump bodies
Hydraulic hook loaders
Leaf machines
Mowers
Pipeline-inspection equipment
Refuse products
Road-maintenance equipment
Salt spreaders
Service bodies
Sewer-cleaning equipment
Sidewalk plows
Snowplows
Street sweepers
Tailgate lifts
Tarp systems
Used equipment
Installing only the best products—including Ampliroll Hydraulic Hooklifts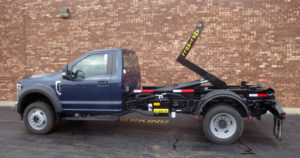 Cyncon Equipment recommends Ampliroll-brand Hooklifts. For cities, highway departments, scrappers, and others with truck bodies and containers to roll-on and roll-off, there's a lot to be said about selecting hook loaders like Ampliroll over cable loaders.
Consider the advantages that Ampliroll Hooklifts bring to any operation. Then multiply those benefits load after load, day after day, season after season! You'll discover that hook loaders offer considerable "plusses" when compared to their cable lift alternatives:
Haul more loads per shift: Ampliroll Hooklifts load (and unload) in a fraction of the time as cable hoists. After all, drivers do not need to get out of the cab and extend, attach or retrieve cables.
Enhance operator safety: Controls for Ampliroll hook loaders are operated from inside the cab. Drivers don't need to climb up and down steps or stand next to moving machinery (as they do with cable hoists) to do their jobs.
Reduce owner liability: For fleet owners, every slick step or slippery parking lot holds the potential for a worker's compensation claim. Because operators of Ampliroll Hooklifts have less need to walk on icy, or muddy surfaces for hookups, the chance for injury is reduced.
Load in tighter spaces: Compared to hook loaders, cable hoists need more fore-and-aft or horizontal open space to load or drop off containers. When loading room is at a premium, the advantage goes to Ampliroll!
Attract and retain more drivers: In previous eras, driver comfort may not have been a deciding factor when weighing hook loaders vs. cable hoists. But in today's labor market, a job that promises cab-mounted controls and minimal exposure to the elements might just be a factor in attracting and retaining more drivers. One more reason to roll with Ampliroll!
Train drivers faster: When picking up, Ampliroll Hooklifts can engage containers or truck bodies up to 60° off-center. Not so with cable hoists. The stingers of the rail must be in almost perfect alignment with the front wheels of the container. Bottom line: Even younger drivers can get the hang of hook loaders more quickly!
Providing customers throughout New York with parts and service, too
As a full-service dealer, the Cyncon Equipment experience doesn't stop at the sale. The company's certified service specialists help ensure quality maintenance for the life of their municipal and truck equipment customers.
To keep clients on the road and out of the shop, their knowledgeable parts team stocks a full selection of certified OEM parts. Customers will also find a big selection of after-market parts.
A family-run business, Cyncon has been satisfying clients since 1978. Contractors, landscapers, municipalities, owner-operators and others are invited to visit or contact the company at:
Cyncon Equipment
7494 W. Henrietta Road
Rush, NY, 14543
Telephone: 800.429.6266
For selection, savings and service, make Ampliroll your first choice in hooklift systems
Ampliroll Hooklift Systems are manufactured by Marrel – the inventor of the dual-pivot hook loader in 1969 and first again in bringing them to users across the U.S. in 1980. Today, Ampliroll is the only supplier in the U.S.A. of premier hook loader systems and associated equipment.
Unlike many others, we also offer a complete selection of truck-mounted accessories and roll-on/off bodies that we can supply as a package with our hook loaders, allowing for single-source acquisition! Select from aerial lifts, cranes, grapple systems and more. Also choose from cement mixers, dump bodies, flatbeds, septic pumpers, waste containers, water tankers and other interchangeable bodies. In addition, you can select from our line of high-quality pre-owned hooklift vehicles.