Ampliroll Hooklift Featured Dealer: SEMI SERVICE, INC., SALT LAKE CITY, UT & CALDWELL, ID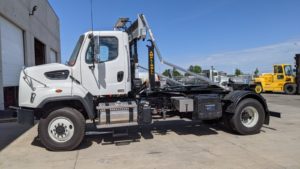 "Everything you need for your truck or trailer in one place." That's the promise Semi Service makes to fleet operators, truck owners and over-the-road drivers throughout the Western United States.
From humble beginnings in 1972 as a small, two-bay trailer service and repair facility focused on the Salt Lake Valley, the company now meets the needs of truckers from two locations in Utah and one in Idaho.
Custom truck builds are a Semi Service specialty. They outfit trucks with dump bodies, platform bodies, service bodies and van bodies, among other types.
The company is also a go-to resource for trailer sales, truck equipment, snow and ice-control equipment, CNG conversions, fabrication, parts, service and repairs.
Specifying Ampliroll-brand Hydraulic Hooklifts for roll-on applications
Whenever a roll-on solution is specified, Ampliroll Hydraulic Hooklifts are often the company's first recommendation.
Semi Service recognizes the value that Ampliroll-brand hook loaders bring to trucking operations. When matched to any number of roll-on truck bodies, a single Ampliroll hooklift-equipped cab-and-chassis can do the work of multiple rigs.
With Ampliroll, the customers of Semi Service are assured of getting unsurpassed quality. Ampliroll Hydraulic Hooklifts deliver best-in-class life spans (25+ years), form-fit jibs (no plastic or steel shims) and best-in-class payloads. Lifting capacities range from 13,000 to 65,000 pounds.
Those who think of cable-loader systems as roll-on alternatives may not realize the advantages that Ampliroll brings to the table. Among their many benefits, Ampliroll Hydraulic Hooklifts:
Load (and unload) in a fraction of the time as cable hoists because drivers do not need to get out and extend, attach or retrieve cables. Thanks to the efficiency of Ampliroll hooklifts, many operators report hauling more loads per shift!
Improve operator safety—and reduce owner liability. Unlike cable hoists with controls mounted outside, Ampliroll hook loaders are operated with cab-mounted controls. Drivers are shielded from moving machinery. They also have less need to walk on icy, muddy or otherwise slick surfaces for hookups.
Permit off-center approaches. When picking up, Ampliroll hooklifts can engage a container up to 60° off-center. Operators spend less time loading. With cable hoists, the stingers of the rail must be in almost perfect alignment with the front wheels of the container.
Semi Service: A resource known to truckers as, "The best, out west!"
Ampliroll appreciates the strong vote of confidence that Semi Service places in our brand of hydraulic hook loaders for roll-on/off truck bodies and containers.
Promoting itself as a trucker's convenient, one-stop shop for sales, parts and service, the company is recognized by many as a resource that's second to none.
For over 45 years, they've proudly served all 11 western states—establishing themselves as a leader in new and used equipment sales, parts, and service for over-the-road drivers and commercial truck builds.
Fleet managers, businesses, municipalities and owner-operators are invited to visit or call Semi Service at any of their three locations:
Semi Service—South Salt Lake City, UT
4285 West 1385 South
Salt Lake City, UT 84104
(801) 521-0360
Semi Service—North Salt Lake City, UT
330 West Center Street
North Salt Lake City, UT 84054
(801) 936-4404
Semi Service—Caldwell, ID
3820 Skyway Street
Caldwell, ID 83605
(208) 297-7475
For selection, savings and service, make Ampliroll your first choice in hooklift systems
Ampliroll Hooklift Systems are manufactured by Marrel – the inventor of the dual-pivot hook loader in 1969 and first again in bringing them to users across the U.S. in 1980. Today, Ampliroll is the only supplier in the U.S.A. of premier hook loader systems and associated equipment.
Unlike many others, we also offer a complete selection of truck-mounted accessories and roll-on/off bodies that we can supply as a package with our hook loaders, allowing for single-source acquisition! Select from aerial lifts, cranes, grapple systems and more. Also choose from cement mixers, dump bodies, flatbeds, septic pumpers, waste containers, water tankers and other interchangeable bodies. In addition, you can select from our line of high-quality pre-owned hooklift vehicles.