Ampliroll Hooklift Featured Dealer: BTE BODY COMPANY, INC., PHOENIX, AZ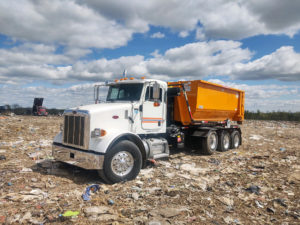 Known as a "Partner who pulls its weight," BTE Body Company provides specialized equipment for industries where hard work is the everyday standard and not the rare exception.
Fleet operators and truck owners in concrete supply, construction and refuse handling rely on this Phoenix, Arizona-based resource for custom builds and work-ready rigs. So do municipalities of all sizes.
With a focus on the long haul, BTE understands that clients need equipment that lasts. That's why the company doesn't take shortcuts. Their technicians know about hard work and assemble trucks that are up for the job. What's more, they use only top-quality parts and materials.
One rugged example of the components they recommend and install? Ampliroll Hydraulic Hooklifts.
Used primarily for the company's clients in the construction industry, Ampliroll is a prime choice when BTE is tasked by demanding customers to assemble the best equipment for the job.
Why does BTE recommend and install Ampliroll-brand hydraulic hook loaders?
Like other custom truck builders and equipment outfitters across North America, BTE knows that  Ampliroll Hydraulic Hooklifts:
Deliver cost savings—allowing faster hookups and more loads per day than cable hoists which are much slower to load.
Provide easy operation with controls within the cab and not outside next to moving machinery as with cable loaders.
Permit drivers to engage containers up to 60° off-center, unlike cable-hoist operators who must take time to line up containers almost perfectly.
Billing themselves as expert business partners, BTE brings to every custom truck build the talents of their factory-trained technicians. Clients large and small also benefit from the company's industry experience, equipment knowledge and an emphasis on engineering.
The focus by BTE on excellence explains why Ampliroll-brand hook loaders are among their preferred equipment. Ampliroll Hydraulic Hooklifts not only deliver best-in-class payloads but also provide:
Form-fit jibs with no plastic or steel shims
Best in-class-life spans of 25+ years
Over 45 years of proven performance
Meeting client needs with custom builds, work-ready trucks, service and equipment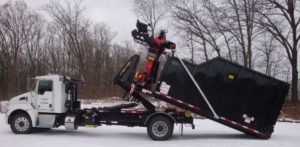 Ampliroll appreciates the strong vote of confidence that BTE Body Company has placed in our brand of hydraulic hook loaders for roll-on/off truck bodies and containers.
The company prides itself on unsurpassed engineering and expertise. BTE does their homework! Their team meets regularly with manufacturer engineers and keeps up to date with the latest advances in the industry.
Whether it's a custom job or a work-ready truck, the company's technicians make sure that every piece of equipment "marries" up to the chassis seamlessly. This attention to detail produces equipment that works better, is easier to keep clean, and lasts longer.
Repeat customers and first-time clients alike know that when you go with BTE, you're getting the best! Call them at (602) 278-9227 or visit their location. You'll find them at 2650 N. 32nd Avenue, Phoenix, Arizona 85009.
For selection, savings and service, make Ampliroll your first choice in hooklift systems
Ampliroll Hooklift Systems are manufactured by Marrel – the inventor of the dual-pivot hook loader in 1969 and first again in bringing them to users across the U.S. in 1980. Today, Ampliroll is the only supplier in the U.S.A. of premier hook loader systems and associated equipment.
Unlike many others, we also offer a complete selection of truck-mounted accessories and roll-on/off bodies that we can supply as a package with our hook loaders, allowing for single-source acquisition! Select from aerial lifts, cranes, grapple systems and more. Also choose from cement mixers, dump bodies, flatbeds, septic pumpers, waste containers, water tankers and other interchangeable bodies. In addition, you can select from our line of high-quality pre-owned hooklift vehicles.