Ampliroll Hooklift Featured Dealer: ARMOR EQUIPMENT, ARNOLD, MO & OLATHE, KS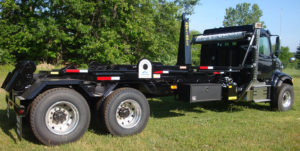 Serving Missouri, Illinois and Kansas for more than 50 years, Armor Equipment is a full-service resource for private and municipal customers for refuse equipment and street sweepers. Among other top products, the company meets the needs of clients with Ampliroll-brand hydraulic hooklifts.
Headquartered in Arnold, Missouri (near St. Louis) and with a location in Olathe, Kansas, they distribute a full line of new and used commercial waste disposal equipment.
In addition to Ampliroll Hydraulic Hooklifts, the company offers other leading brands. These include East Transfer Trailers, Galbreath Equipment, Heil Refuse Trucks and Tymco Street Sweepers.
Customer needs are also satisfied with Sewer Equipment Trucks and Trailer Jetters, Toter Carts and Wastequip Roll Off Dumpsters as well as XtremeVac Trash/Debris/Leaf Collection Units.
Recommending Ampliroll Hooklifts as an alternative to cable loaders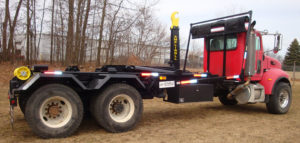 In the waste industry as well as others, there's a robust debate over hook loaders like Ampliroll versus cable hoists for handling refuse or scrap containers.
While cable loaders offer some advantages (e.g., easier loading in areas with low overheads), hooklifts as distributed by Armor Equipment are winning over many fleet operators. Why? Consider benefits like:
Enhanced driver comfort: A cable hoist operator may have to leave the cab several times to complete the container unloading/loading cycle. Not so with Ampliroll. Most drivers prefer a hook loader that allows them to stay in the cab for loading/unloading—especially when it's raining, snowing or freezing outside. This can be a big advantage in recruiting and retaining operators in today's tight labor market.
Faster loading/unloading cycles: Drivers can accomplish more loads per shift with hook loaders. In addition to easier and faster hookups, Ampliroll Hydraulic Hooklifts can engage containers up to 60° off-center. In contrast, cable hoist drivers must perfectly align the stingers of the rail with the front wheels of the container. Even rookie drivers can get the hang of a hook loader faster!
Handing elevated loads: While cable hoists get the nod in low-overhead situations, the efficiency of Ampliroll hooklifts prevails in almost all others. Consider loading docks. Cable hoists can only load from raised platforms if they're about the same height as the rails on the truck and the rig can back up flush to the platform. As for unloading on an elevated dock, a cable hoist driver is out of luck. In contrast, a hooklift operator loads and unloads on elevated platforms with ease!
Reduced maintenance costs: Hooklifts such as those from Ampliroll have no cables to be inspected regularly to preclude safety issues with drivers.
Meeting customer needs with expert service and a full line of parts
While specializing in the sales of commercial waste disposal products, Armor Equipment also offers expert service.
The company is experienced in repairing trucks, trailers, buses, fire trucks, roll-offs, dump trucks, street sweepers, sewer trucks and jetters. They service trash/debris/leaf collection units, compactors, containers, loaders and backhoes. Customers also rely on them to maintain skid steers, motor homes, bucket trucks, boom trucks, box trucks, Hy-Rail Systems and many others.
To keep rigs rolling, they also feature a huge inventory of parts for vehicles of practically every type.
Armor: Serving Missouri, Illinois, Kansas and surrounding states
With more than five decades of experience, Armor Equipment has become the "go-to" source for sales, service and parts for street sweepers, sewer and trash/debris/leaf collection equipment.
Among private companies and municipalities alike, they've gained wide recognition as a leader in the waste management industry because of their dedication to the highest standards.
In light of their focus on product quality and customer satisfaction, Ampliroll appreciates the strong vote of confidence that the company places in our brand of hydraulic hook loaders for roll-on/off truck bodies and containers.
Fleet managers, businesses and owner-operators are invited to visit or call Armor Equipment at either of their two locations:
Armor Equipment—St. Louis, Missouri
1368 Lonedell Road
Arnold, MO 63010
636-296-7119
Armor Equipment—Olathe, Kansas
450 N. Lindenwood Drive
Olathe, KS 66062
913-839-1777
For selection, savings and service, make Ampliroll your first choice in hooklift systems
Ampliroll Hooklift Systems are manufactured by Marrel – the inventor of the dual-pivot hook loader in 1969 and first again in bringing them to users across the U.S. in 1980. Today, Ampliroll is the only supplier in the U.S.A. of premier hook loader systems and associated equipment.
Unlike many others, we also offer a complete selection of truck-mounted accessories and roll-on/off bodies that we can supply as a package with our hook loaders, allowing for single-source acquisition! Select from aerial lifts, cranes, grapple systems and more. Also choose from cement mixers, dump bodies, flatbeds, septic pumpers, waste containers, water tankers and other interchangeable bodies. In addition, you can select from our line of high-quality pre-owned hooklift vehicles.