Ampliroll Hooklift Featured Dealer: QUALITY TRUCK BODIES & REPAIR, ELM CITY, NC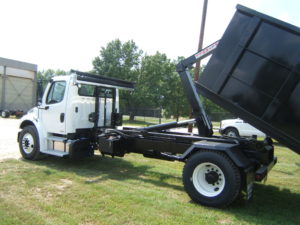 Since 1975, operators of fleets of all sizes as well as individual owner/operators have come to Quality Truck Bodies for a complete line of products to upfit and outfit their trucks.
No challenge is too great for this Elm City, North Carolina-based company. First-time customers and long-time clients alike rely on Quality Truck Bodies for it all, including:
Distributed bodies
Fleet management services
Manufactured bodies
Reading service bodies
Truck accessories
Uplift equipment
Used equipment
Offering an unsurpassed array of upfit equipment
With Quality Truck Bodies, fleet owners and drivers know they have a reliable resource. They count on them to get more functionality and greater value from their vehicles with upfitting options including:
Cranes and booms
Dump hoists
Forklifts
Hooklifts
Knuckleboom cranes
Lift axles
Liftgates
Ramps
Roll-offs
Trash loaders
Wallboard & building product cranes
Featuring Ampliroll-brand Hydraulic Hooklifts
When it comes to hook loaders, it's no surprise that Quality Truck Bodies upfits their customers with Ampliroll Hooklifts. The hydraulic hook loader manufacturer enjoys an industry-wide reputation for performance, quality and value. Among their benefits:
Efficiency: Load as many roll-on/off truck bodies as an operation requires; Ampliroll Hooklifts permit the optimum use of a single chassis. One rig and one driver can do the work of many! Owners also enjoy fewer costs related to training, insuring, licensing … and hiring. In this day-and-age, good drivers are often not easy to find!
Speed: Without leaving the cab of the Ampliroll Hooklift-equipped truck, its driver can load or unload a container or other body in just a few minutes. Compare this efficiency to a cable-loader who must leave the cab, hook up a truck body and pull it onboard—all while standing outside exposed to moving machinery and oftentimes inclement weather!
Versatility: Ampliroll Hooklift hoists can load, unload and dump any number of containers or bodies. For example, containers can be left at a job site and their accumulated contents disposed of or recycled later. As another example, a municipality might hook-on a dump body one day, a chipper body the next and a flatbed the day after.
Flexibility: Cab-chassis-and-Ampliroll Hooklift combinations can be built to accommodate a given physical-size or body and a specific payload. The hook loader's capacity would be selected based on the required payload and volume specifications. The truck chassis on which the hooklift will be mounted must have a gross vehicle weight rating and wheelbase to accommodate the hooklift capacity.
Easier operation: Cable-loader drivers must position their trucks perfectly to roll-on a container. They'll usually load faster with Ampliroll Hydraulic Hooklift Systems. A hook loader from Ampliroll can engage a body or container up to 30 degrees off-center when loading. This is a key reason why roll-on/off truck body changeovers are quicker with hydraulic hooklifts from Ampliroll!
Satisfying the ever-changing needs of truck owners
Ampliroll appreciates the strong vote of confidence that Quality Truck Bodies has placed in our brand of hydraulic hook loaders for roll-on/off truck bodies and containers.
The company takes great pride in the workmanship that goes into the manufacture of truck bodies and is equally proud of the products that they distribute.
Their array of products allows them to respond quickly to the evolving needs of customers engaged in different professions and industries. What's more, their maintenance and repair expertise can provide the key to keeping truck bodies in top form and on the road.
Call Quality Truck Bodies at 252.245.5100 or visit their location. You'll find them at 5316 Rock Quarry Road in Elm City, North Carolina 27822.
For selection, savings and service, make Ampliroll your first choice in hooklift systems
Ampliroll Hooklift Systems are manufactured by Marrel – the inventor of the dual-pivot hook loader in 1969 and first again in bringing them to users across the U.S. in 1980. Today, Ampliroll is the only supplier in the U.S.A. of premier hook loader systems and associated equipment.
Unlike many others, we also offer a complete selection of truck-mounted accessories and roll-on/off bodies that we can supply as a package with our hook loaders, allowing for single-source acquisition! Select from aerial lifts, cranes, grapple systems and more. Also choose from cement mixers, dump bodies, flatbeds, septic pumpers, waste containers, water tankers and other interchangeable bodies. In addition, you can select from our line of high-quality pre-owned hooklift vehicles.