Ampliroll Hooklift Featured Dealer: MUNICIPAL EQUIPMENT INC, LOUISVILLE, KENTUCKY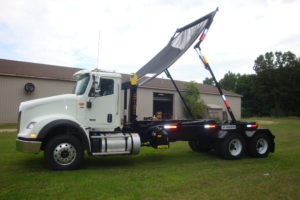 Government and private-sector customers throughout Kentucky, Tennessee and Southern Indiana can rely on Municipal Equipment, Inc. (MEI).
Founded in 1971 to serve the unique needs of municipal street and sanitation departments, MEI is now one of the leading suppliers of refuse, recycling and street-sweeping equipment in the Midwest.
The company operates out of a modern facility in Louisville, Kentucky. It's complete with an equipment showroom, sales offices, parts warehouse, and multi-bay service center. For the convenience of its Volunteer State customers, MEI also staffs a sales office in Knoxville, Tennessee.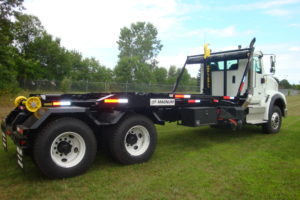 Offering a full line of quality equipment
Municipalities as well as contractors, recyclers, refuse haulers, scrap metal companies and others can select from a complete range of equipment at MEI including:
Balers
Cart lifters
Compactors
Dumpsters
Hydraulic hook loaders
Recycling equipment
Refuse collection bodies
Refuse loaders
Roll-off containers
Roll-off equipment
Roll-out carts
Salt spreaders
Scale systems
Street sweepers
Tarping systems
Transfer stations
Yard waste equipment
Meeting the needs of roll-off applications
Fleet owners and individual operators know the advantages that Ampliroll Hydraulic Hooklifts bring to many trucking operations.
When working with multiple roll-on truck bodies, a single hook-lift equipped cab-and-chassis can do the work of many dedicated, single-use rigs at a fraction of the price.
Municipalities, for example, can easily roll-on and roll-off dumpsters, flatbeds, salt spreaders and other truck bodies depending on the season or application with Ampliroll Hooklift Systems.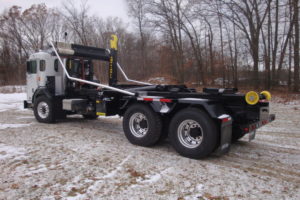 While cable hoists with truck-mounted winches and cables can do much the same, hook loaders do it better. With an Ampliroll-brand hooklift system, you can:
 – Load in a fraction of the time. Drivers of Ampliroll-equipped rigs don't need to get out and attach or retrieve cables. That often means hauling more loads per shift!
 – Improve operator safety. Ampliroll hook loader operators have less need to walk on icy, muddy or otherwise slick surfaces for hookups.
–  Reduce owner liability. Unlike cable hoists with outside controls, Ampliroll Hydraulic Hooklifts are operated from controls inside the cab and away from moving machinery.
–  Enable off-center approaches. Forget the time-consuming perfect alignments needed with a cable loader. Ampliroll Hooklifts can engage a container up to 60° off-center.
Providing the highest level of support
Ampliroll appreciates the strong vote of confidence that Municipal Equipment, Inc. has placed in our brand of hydraulic hook loaders for roll-on/off truck bodies.
Offering new and used equipment as well as parts and service, the company is dedicated to adhering to the highest standards of professional service.
Visit MEI at 6305 Shepherdsville Road, Louisville, Kentucky 40228. Alternatively, call them at 800-248-7590 or reach them by email at mequip@meieq.com.
For selection, savings and service, make Ampliroll your first choice in hooklift systems
Ampliroll Hooklift Systems are manufactured by Marrel – the inventor of the dual-pivot hook loader in 1969 and first again in bringing them to users across the U.S. in 1980. Today, Ampliroll is the only supplier in the U.S.A. of premier hook loader systems and associated equipment.
Unlike many others, we also offer a complete selection of truck-mounted accessories and roll-on/off bodies that we can supply as a package with our hook loaders, allowing for single-source acquisition! Select from aerial lifts, cranes, grapple systems and more. Also choose from cement mixers, dump bodies, flatbeds, septic pumpers, waste containers, water tankers and other interchangeable bodies. In addition, you can select from our line of high-quality pre-owned hooklift vehicles.