Ampliroll Hooklift Featured Dealer: GOODYEAR MOTORS, LODI, NEW JERSEY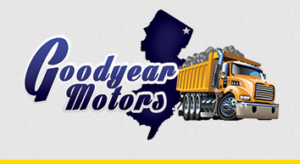 Founded in 1948 by Robert D. Bonanno, Goodyear Motors is a commercial truck sales and service center located in Lodi, New Jersey.
Led today by Robert J. Bonanno, Michael Bonanno, and Nicholas Bonanno, the company is supported by 15 employees and specializes in the sale of used, medium-duty trucks.
Fleet managers, company owners, and individual truck operators alike rely on Goodyear for preowned trucks of almost every popular type:
Cab-and-chassis trucks
Dry box trucks
Dump trucks
Hook lift trucks
Reefer box trucks
Refrigerated trucks
Roll offs
Truck bodies
Vans
Offering an unsurpassed selection of used trucks
On any given day, customers can choose from 100 to 150 used trucks and preowned truck bodies at Goodyear. The company's extensive inventory also includes truck lift gates, refrigeration units and Ampliroll Hydraulic Hooklift Systems.
Performing complete maintenance services
While general maintenance is requested by most customers, Goodyear serves as a one-stop-shop for all services. Truckers can rely on them for body and liftgate installations, chassis alterations and
specialized fabrications as well as body, cab and mechanical repairs.
Carrying products from America's leading brands
Goodyear is an authorized reseller of detachable truck body systems, hook loaders, commercial truck warranties and equipment tarps from the top names in the industry. In dump bodies alone, they represent Air-Flo, Godwin and TAFCO.
Featuring Ampliroll Hydraulic Hooklift Systems
When selecting hydraulic hook loader systems to meet the needs of their customers, Goodyear elected to go with an industry leader—Ampliroll.
The company's website explained the choice: "Efficient. Easy to use. Quick. Low cost. Versatile. These are among some of the ways to describe Ampliroll hook lift systems. With models ranging from 6,600 pounds to 60,000 pounds of lifting capability, there is an Ampliroll hook lift system for your needs."
Goodyear goes on to cite some of the benefits that contractors, landscapers, municipalities, refuse haulers, scrap companies and others can gain by matching an Ampliroll-equipped cab-and-chassis with any number of interchangeable truck bodies:
Drivers never have to leave the cab to operate the Ampliroll Hooklift
Operators may make an approach from any angle within a 60-degree radius
Ampliroll Hooklift Systems are virtually maintenance-free, all-season long
Can be used with containers, platforms, dump bodies or other truck bodies
The company's website notes, "Ampliroll hook lift bodies are unsurpassed in their reputation for reliability and excellence in design."
Goodyear concludes by stating, "With a Best in Class lifespan of 25+ years, Best in Class Payload, and over 40 years of proven performance, you cannot go wrong with an Ampliroll hook lift system."
Setting the highest standards for customer service
Ampliroll appreciates the strong vote of confidence that Goodyear has placed in our brand of hydraulic hook loaders for interchangeable, roll-off truck bodies.
Focused on client satisfaction, the company continually strives to set standards for quality used medium-duty trucks and truck bodies, parts, repairs and related equipment.
Visit Goodyear Motors at 86 Route 46, East Lodi, New Jersey 07644. Call them at 973.777.0979 or 800.542.0978. You can also reach them by email at info@goodyearmotors.com.
For selection, savings and service, make Ampliroll your first choice in hooklift systems
Ampliroll Hooklift Systems are manufactured by Marrel – the inventor of the dual-pivot hook loader in 1969 and first again in bringing them to users across the U.S. in 1980. Today, Ampliroll is the only supplier in the U.S.A. of premier hook loader systems and associated equipment.
Unlike many others, we also offer a complete selection of truck-mounted accessories and roll-on/off bodies that we can supply as a package with our hook loaders, allowing for single-source acquisition! Select from aerial lifts, cranes, grapple systems, and more. Also choose from cement mixers, dump bodies, flatbeds, septic pumpers, waste containers, water tankers, and other interchangeable bodies. In addition, you can select from our line of high-quality pre-owned hooklift vehicles.