Ampliroll Hooklift Featured Dealer: LINCOLN INDUSTRIAL CORPORATION, PORT ANGELES, WASHINGTON
Operating under the banner of "70 Years and Steel Strong," Lincoln Industrial Corporation of Port Angeles, Washington is the region's "go-to" team for welding and logging services.
With in-house design and engineering capabilities as well as plasma cutters, press brakes and a fully-stocked steel room, metal fabrication is the company's focus—and

much of that expertise benefits the area's truckers.
In fact, those who need to transport materials and equipment for commercial and personal use can take advantage of Lincoln's heavy-duty vehicles. These typically are trucks with dump boxes, flatbeds, hooklifts and tilt trailers.
The company's "Lincoln Loggers" have gained an enviable reputation with timber companies in the Northwest. They offer dump trucks and pup trailers to customers nationwide. Custom trucks and trailers are also a specialty.
Outfitting trucks with Ampliroll Hydraulic Hooklifts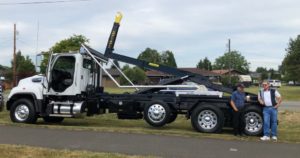 When individual truck owners and fleet operators request a roll-on/off rig, Lincoln equips the cab-and-chassis with Ampliroll hook loaders.
One of the industry's leading brands, Ampliroll Hydraulic Hooklifts bring many advantages to users that appreciate the value that roll-on/off truck bodies can bring to any operation. Among many others, those in the construction, logging, road maintenance, scrap and waste removal industries often specify Ampliroll hook loaders.
Cable loader systems for roll-on-off operations have their fans, but Ampliroll Hooklifts outperform them in more ways than one:
Drivers operate Ampliroll controls from within the cab—out of inclement weather, off any rain- or snow-slick surfaces, and safely away from moving machinery.
Cable loader drivers have to step out of the cab, hook up the cable, operate the controls next to the chassis, unhook the cable and climb back in the cab. And that's just for the pickup, not the container drop-off.
Unlike cable lifts that require time-consuming, perfect alignments from chassis-to-container for pickups, Ampliroll Systems can hook up truck bodies from as much as 60 degrees off-center. Over the course of a shift, that's a lot less fussing and potentially much more hauling.
With advantages like these, it's no wonder that Lincoln goes with Ampliroll Hydraulic Hooklift Systems when truck owners and fleet operators come to them for roll-on/off systems!
Serving the Greater Northwest and beyond since 1946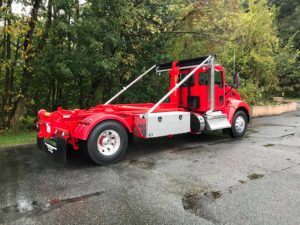 Ampliroll appreciates the strong vote of confidence that Lincoln Industrial Corporation has placed in our brand of hydraulic hook loaders for roll-on/off truck bodies.
Experienced welders and expert fabricators that manufacture top-of-the-line commercial trucks and trailers, they approach every job large or small with quality, value and honesty in mind
Visit Lincoln Industrial Corporation at 4130 Tumwater Truck Route, Port Angeles, Washington 98363. Alternatively, call them at (360) 457-6122 or send an email to don@lincolnindustrialcorp.com.
For selection, savings and service, make Ampliroll your first choice in hooklift systems
Ampliroll Hooklift Systems are manufactured by Marrel – the inventor of the dual-pivot hook loader in 1969 and first again in bringing them to users across the U.S. in 1980. Today, Ampliroll is the only supplier in the U.S.A. of premier hook loader systems and associated equipment.
Unlike many others, we also offer a complete selection of truck-mounted accessories and roll-on/off bodies that we can supply as a package with our hook loaders, allowing for single-source acquisition! Select from aerial lifts, cranes, grapple systems and more. Also choose from cement mixers, dump bodies, flatbeds, septic pumpers, waste containers, water tankers and other interchangeable bodies. In addition, you can select from our line of high-quality pre-owned hooklift vehicles.