Ampliroll Hooklift Featured Dealer: MTECH, CLEVELAND, OHIO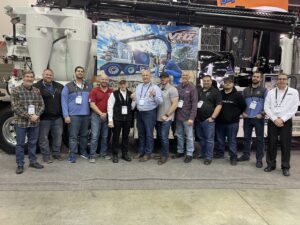 With a focus on "Sewer, Street, Safety" since 1975, MTech provides premium products—including Ampliroll Hydraulic Hooklift Systems—to businesses and municipalities throughout Ohio, Michigan, and Western Pennsylvania.
A reliable source for sewer, street and safety equipment
Operators within the industry demand a lot from their equipment. Specialized products are needed to get the job done, maintain schedules and deliver value—shift after shift, day after day.
MTech has earned a reputation as the region's "go-to" resource. Fleet managers rely on the Cleveland-based company to provide equipment and service for:
Debris Collectors/Leaf Vacuums
Hydraulic Hook Loaders
Jetters & Vacuums
Municipal Sidewalk Tractors
Service Truck Bodies
Remote-Control Robotic Slope Mowers
Safety Equipment
Sewer Inspection Equipment
Street Sweepers
Tools & Accessories
Partnering with industry leaders—including Ampliroll Hooklifts
MTech carries products from only the most trusted manufacturers. Many of them are global leaders. They offer the quality needed to improve productivity and minimize downtime.
Ampliroll-brand Hydraulic Hooklifts are a prime example. They're a top choice for sewer, street and municipal operations that appreciate the efficiency of roll-on/off truck bodies and containers.
Consider the many benefits that Ampliroll Hook Loaders bring to fleet owners or managers:
Realize Improved Performance: Ampliroll systems operate with high-pressure (i.e., 5,000 psi) pumps. The choice of 75% of hook loader manufacturers globally, these systems are rapidly replacing less-efficient, lower-pressure (i.e., 3,000-3,500 psi) alternatives.
Enjoy Greater Productivity: With in-cab controls, Ampliroll can deliver extra efficiency on every shift. Unlike drivers of cable loaders, hooklift operators don't need to climb in and out to hook up a truck body or container.
Achieve Enhanced Safety: Because controls for Ampliroll Hooklifts are located in the cab, drivers don't risk walking on potentially slippery ground to reach truck-side levers as they would with a cable loader.
Greater Peace of Mind: Fleet managers also appreciate Ampliroll's in-cab controls. By reducing operator exposure to risk, they can reduce management's exposure to costly worker's compensation claims.
Benefit from Faster Loading: Cable loaders require an exact alignment for loading. Not Ampliroll. Drivers can approach a truck body from any angle within a 60-degree arc.
Supplying equipment solutions … and much, much more
From sewer inspection cameras to street sweepers, vacuum trucks and more, equipment from MTech can help operators meet their productivity goals and achieve long-lasting value.
Expert installations and repairs are performed at MTech in Cleveland. So are training courses that are approved for continuing education credits. On-site support throughout Ohio, Michigan, and Western Pennsylvania offers unmatched service levels for their customers.
For all solutions relating to "Sewer, Street, Safety," visit the company at:
MTech
7401 First Place
Cleveland, Ohio 44146
Call them toll-free at 800-362-0240. Or email them at: sales@mtechcompany.com.
For selection, savings and service, make Ampliroll your first choice in hooklift systems
Ampliroll Hooklift Systems are manufactured by Marrel – the inventor of the dual-pivot hook loader in 1969 and first again in bringing them to users across the U.S. in 1980. Today, Ampliroll is the only supplier in the U.S.A. of premier hook loader systems and associated equipment.
Unlike many others, we also offer a complete selection of truck-mounted accessories and roll-on/off bodies that we can supply as a package with our hook loaders, allowing for single-source acquisition! Select from aerial lifts, cranes, grapple systems and more. Also choose from cement mixers, dump bodies, flatbeds, septic pumpers, waste containers, water tankers and other interchangeable bodies. In addition, you can select from our line of high-quality pre-owned hooklift vehicles.