BUILDERS & CONTRACTORS: A DOZEN WAYS TO GET MORE DONE WITH AMPLIROLL HOOKLIFTS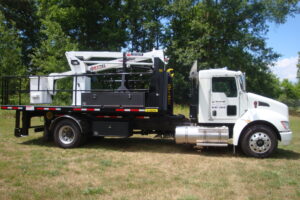 In construction, you know the key to efficiency is having the right tool for the job. No more, no less. As many in the industry have discovered, the same principle applies to interchangeable truck bodies matched with Ampliroll Hydraulic Hooklifts.
Forget buying, maintaining, insuring and manning a fleet of vehicles for separate applications. You can more easily and economically employ a series of roll-on/off truck bodies along with an Ampliroll-equipped cab-and-chassis.
Use your Ampliroll-outfitted rig to drop off a dumpster at one job site. Next, load an office body for use at a different location across town. Need to haul dirt? Hook on a dump body and have at it!
When compared to the purchase of separate, single-use trucks to accomplish these and other jobs, Ampliroll-brand hook loaders deliver amazing versatility—and exceptional value!
Match Ampliroll Hooklifts with these roll-off bodies
An Ampliroll Hooklift-equipped chassis or two can become the workhorses of your fleet. Pair them with any number of roll-off bodies commonly used in construction. We've listed a dozen different potential matchups. You could probably add several others to our list!
Air compressor
Cement mixer
Dropbox with tarp
Dump body
Field lube/service body
Flatbed (for an excavator or skid-steer loader)
Jobsite office
Portable workshop
Tool storage/security container
Van body
Waste container
Water tanker
Check out the many advantages of Ampliroll
Compare our hooklifts to others for your construction fleet. Or match them up against cable loader alternatives for roll-offs. Ampliroll Hydraulic Hooklifts:
Load in a fraction of the time. Drivers of Ampliroll-equipped rigs don't need to get out and attach or retrieve cables. Faster hookups mean you can haul more loads per shift.
Improve operator safety. Ampliroll hook loader operators have less need to walk on icy, muddy or otherwise slick surfaces for hookups. Drivers (and potential employees) will appreciate this!
Reduce owner liability. Rest easier, fleet manager! Unlike cable hoists with outside controls, Ampliroll Hydraulic Hooklifts are operated from levers inside the cab. Your drivers aren't exposed to moving machinery.
Enable off-center approaches. Forget the time-consuming, perfect alignments needed with a cable loader. Ampliroll Hooklifts can engage a roll-off body or container up to 60° off-center.
Operate more efficiently. Ampliroll Hooklifts feature high-pressure 5,000-psi pumps for greater performance. Considered by many as the industry "gold standard," they're taking the place of less-efficient, low-pressure (i.e., 3,000-3,500 psi) alternatives.
For selection, savings and service, make Ampliroll your first choice in hooklift systems
Ampliroll Hooklift Systems are manufactured by Marrel – the inventor of the dual-pivot hook loader in 1969 and first again in bringing them to users across the U.S. in 1980. Today, Ampliroll is the only supplier in the U.S.A. of premier hook loader systems and associated equipment.
Unlike many others, we also offer a complete selection of truck-mounted accessories and roll-on/off bodies that we can supply as a package with our hook loaders, allowing for single-source acquisition! Select from aerial lifts, cranes, grapple systems and more. Also choose from cement mixers, dump bodies, flatbeds, septic pumpers, waste containers, water tankers and other interchangeable bodies. In addition, you can select from our line of high-quality pre-owned hooklift vehicles.