Ampliroll Hooklift Featured Dealer: FORT FABRICATION & WELDING, SURREY, BRITISH COLUMBIA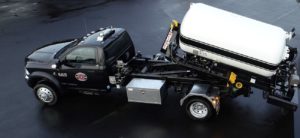 Fort Fabrication & Welding serves refuse and recycling companies, snow and ice control operations, landscapers and other customers with dump bodies, service bodies, flat decks, cranes and more. The company's leading sellers are Ampliroll Hydraulic Hooklifts and its in-house line of cable roll-on/roll-off truck and trailer systems.
Located in Surrey just minutes from British Columbia Highway 1, they operate out of two 10,000 square-foot shops. For truckers throughout the region, no job is too big or too small.
Providing Western Canada with top-quality truck body equipment
A trusted resource for over 25 years, countless companies, municipalities and owner/operators rely on Fort Fabrication.
A manufacturer and distributor of truck and trailer equipment, they meet the needs of clients with a fully equipped service and installation department for:
Ampliroll Hydraulic Hooklifts
Cranes
Dump bodies
Flat decks
Landscaping bodies
Recycling and sanitation equipment
Roll-on/roll-off bodies and containers
Service bodies
Snow and ice equipment
Street sweepers
Tarp systems
Featuring Ampliroll Hydraulic Hooklifts as their #1 seller
Ampliroll-brand hydraulic hook loaders are a leading choice among the contractors, highway departments, landscapers, municipalities, recyclers, scrappers and others that rely on Fort Fabrication.
While cable-loading systems for roll-on/roll-off trucks bodies and containers have their adherents, many new as well as current users are electing to go with hook loaders. Why? Consider the advantages that Ampliroll Hooklifts bring to any operation:
Less maintenance: While cable loaders are slightly less expensive at the outset than comparable hook loaders, maintenance costs over time are much lower for Ampliroll Hooklifts. There are no cables that have to be inspected regularly to preclude safety issues to operators.
More loads per shift: Ampliroll Hooklifts can load (and unload) in a fraction of the time as cable hoists. Drivers do not need to get out and extend, attach or retrieve cables. Many operators report hauling more loads per shift thanks to the efficiency of hook loaders.
Operator preference: Drivers prefer hook loaders over cable hoists because, in most cases, they don't have to exit the vehicle to complete a load/unload cycle. Ampliroll Hooklift controls are operated from the comfort of the cab—not outside in the heat, cold or rain.
Improved safety/reduced liability: With cab-mounted Ampliroll Hooklift controls, drivers are well shielded and far removed from moving machinery. What's more, they have less need to walk on icy, muddy or otherwise slick surfaces for hookups.
Faster approaches: Drivers of Ampliroll Hooklifts can engage containers up to 60° off-center. Not so with cable hoists. The stingers of the rail must be in almost perfect alignment with the front wheels of the container, which can be a challenge for even experienced drivers.
Delivering the highest quality products and service for 25 years
Truckers throughout Western Canada have discovered they can rely on Fort Fabrication for it all. Services include custom design and fabrication as well as parts and service. There's also an extensive inventory of pre-owned heavy equipment, trucks and transport trailers.
The company is authorized by Transport Canada for final-stage body and equipment installations as well as wheelbase alterations.
Businesses, fleet managers, municipalities, owner-operators and others are invited to visit or contact the company at:
Fort Fabrication & Welding
19439 94th Avenue
SURREY, BC V4N 4E6
Telephone: 877-962-2330
Toll-free: 866-339-2024
Fax: 604-882-2515
For selection, savings and service, make Ampliroll your first choice in hooklift systems
Ampliroll Hooklift Systems are manufactured by Marrel – the inventor of the dual-pivot hook loader in 1969 and first again in bringing them to users across the U.S. in 1980. Today, Ampliroll is the only supplier in the U.S.A. of premier hook loader systems and associated equipment.
Unlike many others, we also offer a complete selection of truck-mounted accessories and roll-on/off bodies that we can supply as a package with our hook loaders, allowing for single-source acquisition! Select from aerial lifts, cranes, grapple systems and more. Also choose from cement mixers, dump bodies, flatbeds, septic pumpers, waste containers, water tankers and other interchangeable bodies. In addition, you can select from our line of high-quality pre-owned hooklift vehicles.