Ampliroll Hooklift Featured Dealer: CYNCON EQUIPMENT, RUSH, NY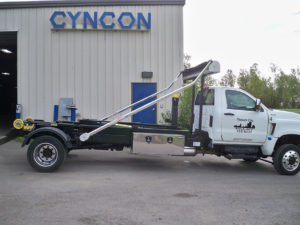 Focused on "Providing New York with premier municipal and truck equipment since 1978," Cyncon Equipment is widely recognized throughout the region as a leader in the municipal and truck equipment industry.
Offering a complete line of best-in-class equipment—including Ampliroll Hydraulic Hooklifts—they understand that their support for its customers does not stop at the sale.
The company's factory-trained service specialists and knowledgeable parts managers—operating in real-time with fair pricing and efficient problem-solving techniques—have enabled the Rush, New York-based operation to satisfy customer after customer for over 40 years.
Meeting the needs of private industry and municipalities with quality
Cyncon Equipment is a "go-to" resource for businesses, city and county governments, fleet managers and individual owner-operators. Clients rely on them for the top brands in:
Dump bodies
Leaf machines
Mowers
Pipeline-inspection equipment
Refuse products
Road maintenance equipment
Salt spreaders
Service bodies
Sewer-cleaning equipment
Sidewalk plows
Snowplows
Street sweepers
Tailgate lifts
Tarp systems
Offering only the best equipment—including Ampliroll Hooklifts
Customers relying on Cyncon Equipment can expect products that are the best in the business. Among them are Ampliroll-brand Hydraulic Hooklifts for roll-on/off truck bodies and containers.
Ampliroll is designed to pick up, dump, transport and unload recycling and waste containers more safely and efficiently. Of course, the same advantages apply to those employing Ampliroll hook loaders for interchangeable truck bodies These users include contractors, highway departments, landscapers, municipalities and others.
Hook loaders from Ampliroll bring a lot to any operation, large or small. When compared to cable hoists, for example, the advantages to Ampliroll Hydraulic Hooklifts include:
Speed: Ampliroll Hooklifts allow drivers to load (and unload) in a fraction of the time as cable hoists because they do not need to get out and extend, attach or retrieve cables. Many operators report hauling more loads per shift thanks to the efficiency of hooklifts. What's more, hook loaders from Ampliroll can engage a container or body up to 60° off-center. Not so with cable hoists that demand an almost-perfect lineup. Advantage: Ampliroll!
Safety: Drivers operate Ampliroll's in-cab controls from the safety of their seats. Ampliroll Hooklifts don't expose them to moving machinery or slippery work surfaces like cable hoists do with their truck side-mounted levers. Operators value the comfort and convenience, especially in hot, cold or wet weather. Owners, too, appreciate the greater loading speeds of Ampliroll Hydraulic Hooklifts and reduced exposure to costly worker's compensation claims.
Engineering: Many truckers insist on high-pressure (i.e., 5,000 psi) pumps of the type offered by Ampliroll. For reasons of greater performance, they're the system of choice of 75% of hook loader manufacturers in America and around the world—rapidly taking the place of less-efficient, low-pressure (i.e., 3,000-3,500 psi) alternatives offered by some hook loader competitors.
Providing expert service that customers have come to expect
Client satisfaction with Cyncon Equipment begins with the sale and extends throughout the life of your equipment.
The company stands behind its top brands for refuse collection, street sweeping, snow and ice control equipment as well as truck bodies with expert service and a ready selection of replacement parts.
In light of their focus on product quality and customer satisfaction, Ampliroll appreciates the strong vote of confidence that Cyncon Equipment places in our brand of hydraulic hook loaders for roll-on/off truck bodies and containers.
Municipalities, businesses, fleet managers, owner-operators and others are invited to visit or call the company at:
Cyncon Equipment
7494 W. Henrietta Road
Rush, NY 14543
Tel: 800.429.6266 (800.4CYNCON)
Fax: 585.533.2501
For selection, savings and service, make Ampliroll your first choice in hooklift systems
Ampliroll Hooklift Systems are manufactured by Marrel – the inventor of the dual-pivot hook loader in 1969 and first again in bringing them to users across the U.S. in 1980. Today, Ampliroll is the only supplier in the U.S.A. of premier hook loader systems and associated equipment.
Unlike many others, we also offer a complete selection of truck-mounted accessories and roll-on/off bodies that we can supply as a package with our hook loaders, allowing for single-source acquisition! Select from aerial lifts, cranes, grapple systems and more. Also choose from cement mixers, dump bodies, flatbeds, septic pumpers, waste containers, water tankers and other interchangeable bodies. In addition, you can select from our line of high-quality pre-owned hooklift vehicles.