Talking Hooklifts With Your Dealer: 6 Key Questions To Discuss When Shopping For Yours
When buying a hydraulic hooklift system, which comes first, the hook loader or the truck chassis? Some users seek to match a hooklift to a chassis they already own or plan to purchase. Others determine their truck body needs and hooklift hoist requirements before speccing out their rig.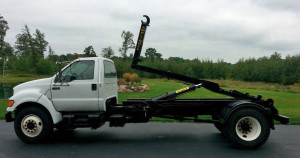 There's no one "right way" to go about getting into hooklifts or upgrading your hook loader fleet. But, there is one set of questions that will help you match up the hooklift hoist model, chassis and truck bodies for the best value, utility and ongoing satisfaction.
When visiting your dealer to talk hooklifts, be prepared to discuss these topics:
Operations: Begin by discussing your business or operation. What do you want your hook loader equipped truck or fleet to accomplish? What's a typical work day, week or month?
Bodies: Talk about truck bodies. What styles will you work with? Dump, tanker, container, other? Be specific. And, be ready to talk size, too. Your dealer will need this information to determine the best hooklift hoist for the type and length of truck bodies you'll be using.
GVWR: What's the GVWR of your truck chassis? This will help your dealer equip you with the right hoist.
More specs: What's the cab-to-axle or cab-to-trunion measurement of your chassis? Again, these dimensions will aid your dealer in recommending the right hooklift.
Manual/automatic: What is your transmission type? The style you choose can determine the type of hydraulic pump your hooklift will need. Automatic transmissions usually require pumps with right-hand rotations, while manual transmission-equipped vehicles need just the opposite; pumps with left-hand rotations.
Capacity: What kind of hooklift capacity will you need? Of course, you'll want to get all the hook loader you need and maybe a bit more without spending on excess capacity you won't use. Ampliroll, for example, offers capacities from 6,600 pounds all the way up to 60,000 pounds.
An added word: Speaking as a leading provider of hydraulic hooklifts, Ampliroll believes that it's ideal to start with the hooklift hoist best suited to your operation and then spec out the chassis to match. That said, we and our dealers have worked with countless users of hook loaders who start with the chassis or even the truck bodies before speccing the hoist! Either way, we're ready to talk hooklifts with anyone at any time!
A final tip: When at all possible, potential users should look for a manufacturer capable of supplying the hooklift system along with all the required equipment that will be integrated with it. This precludes any future problems with service and warranty issues. It also gives the end user the confidence in having the "sole-source responsibility" of one manufacturer.
For selection, savings and service, make Ampliroll your first choice in hydraulic hooklift systems.
Ampliroll Hooklift Systems are manufactured by Marrel – the inventor of the dual-pivot hook loader in 1969 and first again in bringing them to users across the U.S. in 1980. Today, Ampliroll is one of the nation's leading providers of hooklift systems. Of course, we also offer high-quality pre-owned hooklift vehicles.