Taking Control: The 3 Types Of Cab Controls For Hooklift Operations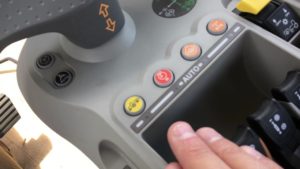 In the ongoing hydraulic hooklift system vs. roll-off hoist debate, hooklifts score big because of their inside-the-cab controls as opposed to the those mounted outside on cable systems.
These cab controls enable productivity increases of approximately 70% for hooklifts over cable loaders! Loading and unloading is faster because drivers do not need to extend or retrieve cables via the winch controls at truck side.
Owners, managers and operators alike also prefer the safety of cab-mounted hooklift controls. Unlike roll-off hoists with cable and winches, drivers operate hook loaders while safely encased within a steel truck cab. This reduces exposure to moving machinery and minimizes the risk of injury. It also lessens the occurrence of worker's compensation claims that may arise from such hazards.
Comfort, too, is plus associated with hook-lift hoists, especially among drivers. With roll-off hoists, they must work outside to latch the cable onto the front hook of the box. In contrast, a hook system does not require the driver to leave the truck cab to drop or pick up the container; they simply work the controls.
Most operators don't object to the physical aspect of cable systems. They do, however, appreciate the comfort of working in an air-conditioned or heated cab! They spend less time sweating outside on steamy summer days or freezing in cold, wet and windy winter conditions.
If advantages like these have you leaning toward a hydraulic hooklift over a roll-off hoist, what are your cab-mounted control options? Your hooklift dealer will probably present you with three choices when outfitting your new rig:
·         Cable controls: Favored by many in colder environments, these controls are commonly installed as floor-mounted levers.
·         Electric controls: These controls are available only as dashboard-mounted switches.
·         Pneumatic controls: These low-pressure system controls are usually installed as instrument panel-mounted switches or floor-mounted levers.
Pros and cons: So, which cab control system is optimal? With fewer moving parts, electric controls may get a slight nod by some for reliability. That said, they're the most expensive. What's more, they don't allow "feathering" or controlling the load by fingertip adjustments.
For this reason, driver-operated pressure controls are considered the best by many. They're the most sensitive and allow operators full control over the speed of all hydraulic flows and hooklift movements.
Your best bet? Ask your hydraulic hooklift dealer for their cab-control system recommendation and, if possible, a demonstration.
For selection, savings and service, make Ampliroll your first choice in hydraulic hooklift systems.
Ampliroll Hooklift Systems are manufactured by Marrel – the inventor of the dual-pivot hook loader in 1969 and first again in bringing them to users across the U.S. in 1980. Today, Ampliroll is one of the nation's leading providers of hooklift systems. Of course, we also offer high-quality pre-owned hooklift vehicles.