SANITATION, SEPTIC & SEWAGE: HERE'S WHY SO MANY OPERATIONS ROLL WITH AMPLIROLL HOOKLIFTS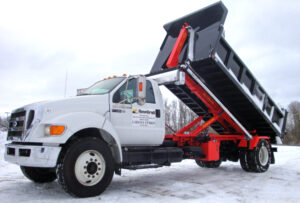 When paired with an Ampliroll Hydraulic Hooklift System, roll-off truck bodies can bring many advantages to your sanitation, septic and/or sewage operation.
Whether you're managing a municipal fleet or a private business, roll-offs can be great alternatives to fixed bodies. You can perform a variety of jobs without the heavy investment needed to buy a vehicle dedicated to each one.
For roll-offs, cable hoists or hook loaders?
There's no denying the popularity of cable hoists. But when you examine the advantages of hook loaders like Ampliroll, they often win the day. Their advantages include safety and efficiency.
Consider that with a cable system, a driver must exit the cab, haul the heavy cable and hook it onto the roll-off truck body.
The cable attachment point is often an awkward position. Controls are located outdoors on the side of the rig, next to moving machinery. And if the driver is working on muddy or snowy ground, there's a chance for a slip and fall.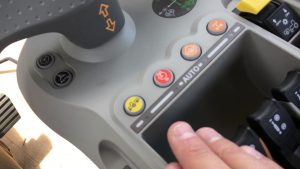 Ampliroll Hooklifts present no such risk of injury to operators. Controls are mounted in the cab. Beyond controlling the levers, loading and unloading is entirely "hands-off."
This makes the process not only safer but quicker. Ease-of-operation with hooklifts may also be more be a competitive advantage when hiring drivers. It also provides peace of mind to managers worrying about worker's compensation claims.
Ampliroll Hooklifts vs. other hook loaders?
For anyone considering a hook hoist, Ampliroll-brand Hydraulic Hooklift Systems bring a lot to the table. They enjoy an unsurpassed reputation for quality, reliability and value.
One advantage over some other choices? Improved efficiency. Ampliroll features high-pressure 5,000-psi pumps for greater performance. Considered by many as the industry "gold standard," they're taking the place of less-efficient, low-pressure (i.e., 3,000-3,500 psi) alternatives.
How Ampliroll benefits your roll-off fleet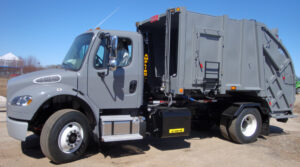 If considering roll-off solutions for your sanitation, septic and/or sewage operation, Ampliroll belongs right at the top of your list. Many in the industry pair our hook loaders with:
Air mover bodies
Combo sewer cleaner units
Hydro excavator roll-offs
Liquid vacuum roll-offs
Pumper bodies
Septic tank vacuum roll-offs
Sewer jetter units
Stake beds (for portable toilets)
Tanker bodies
Vacuum sewer cleaners
Wastewater skimming containers
Wastewater sludge bodies
And more
For selection, savings and service, make Ampliroll your first choice in hooklift systems
Ampliroll Hooklift Systems are manufactured by Marrel – the inventor of the dual-pivot hook loader in 1969 and first again in bringing them to users across the U.S. in 1980. Today, Ampliroll is the only supplier in the U.S.A. of premier hook loader systems and associated equipment.
Unlike many others, we also offer a complete selection of truck-mounted accessories and roll-on/off bodies that we can supply as a package with our hook loaders, allowing for single-source acquisition! Select from aerial lifts, cranes, grapple systems and more. Also choose from cement mixers, dump bodies, flatbeds, septic pumpers, waste containers, water tankers and other interchangeable bodies. In addition, you can select from our line of high-quality pre-owned hooklift vehicles.