AMPLIROLL HOOKLIFTS TO THE RESCUE: BRINGING VERSATILITY AND VALUE TO FIRE DEPARTMENTS AND RESPONSE TEAMS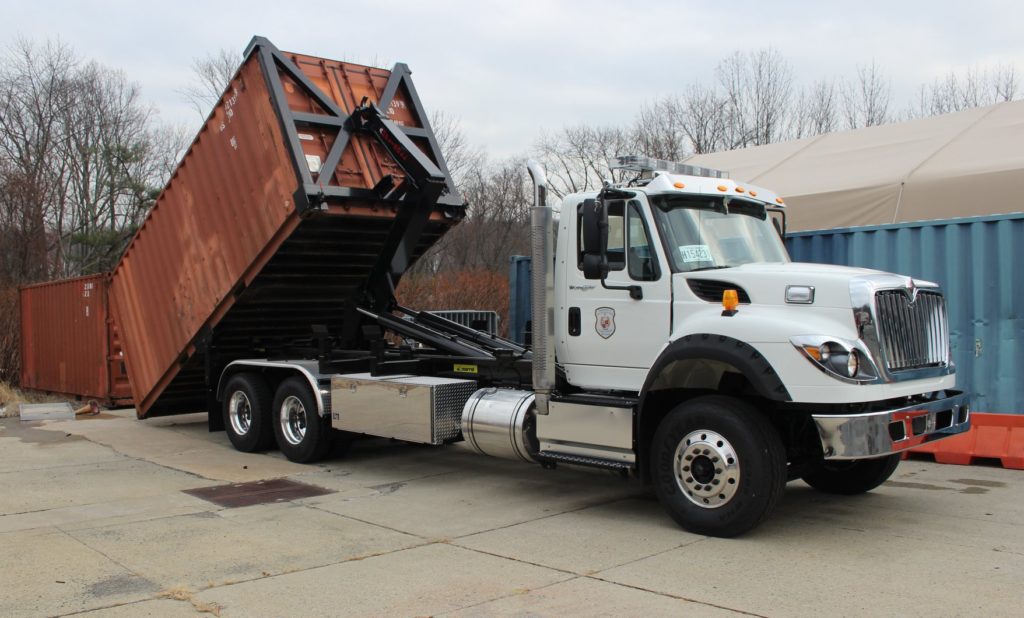 Many of today's first responders are discovering that their equipment needs go far beyond single-purpose EMT vehicles, ladder trucks and pumpers.
Missions now extend to dealing with hazmat spills, fighting brushfires, mounting SAR operations and more. But few departments can afford to buy and maintain a dedicated vehicle for each challenge.
Ampliroll Hydraulic Hooklifts are answering the call. When they're mounted on a cab-and-chassis, any number of specially configured truck bodies can readily be rolled on (and off) as needed.
Your department gets the best of both worlds: The right truck body for the particular application—but without the heavy investment needed to devote a single, purpose-built vehicle to each job.
A dozen ways your department can win with Ampliroll Hooklifts.
We counted 12 roll-off truck bodies that can be used with Ampliroll hook loaders for the benefit of fire and rescue operations. There may be more!
Brush fire-fighting bodies
Decontamination roll-offs
Disaster command centers
Emergency generators
Emergency transformers
Emergency lighting bodies
Equipment storage (i.e., van) bodies
Flatbeds (for ATVs or snowmobiles)
Hazmat response bodies
Search-and-rescue bodies
Stake rack modules
Water tankers
Another potential application? A roll-off body for SWAT situations.
Easy operation is a key advantage. And so is driver safety.
Specialized training is a must for most emergency situations, but not for Ampliroll Hooklifts. They're remarkably easy to operate.
From the comfort of the driver's seat, in-cab controls enable operators to hook on, position, and drop off interchangeable truck bodies without much practice, And safely, too, in comparison with other options.
Consider cable-hoist systems, which are also promoted for roll-offs. With them, a driver must exit the cab, haul a heavy cable and hook it onto each truck body.
This activity must be performed outdoors—and often on icy, rain-slick or uneven ground. And usually with the cable loader's operating levers mounted next to moving machinery.
Seeking efficiency and safety? Advantage Ampliroll!
For selection, savings and service, make Ampliroll your first choice in hooklift systems.
Ampliroll Hooklift Systems are manufactured by Marrel – the inventor of the dual-pivot hook loader in 1969 and first again in bringing them to users across the U.S. in 1980. Today, Ampliroll is the only supplier in the U.S.A. of premier hook loader systems and associated equipment.
Unlike many others, we also offer a complete selection of truck-mounted accessories and roll-on/off bodies that we can supply as a package with our hook loaders, allowing for single-source acquisition! Select from aerial lifts, cranes, grapple systems and more. Also choose from cement mixers, dump bodies, flatbeds, septic pumpers, waste containers, water tankers and other interchangeable bodies. In addition, you can select from our line of high-quality pre-owned hooklift vehicles.