Roll-Off Hoists or Hooklift Systems for Trucks: What's the Difference?
Among most cities, waste haulers, contractors and other users, the advantages of roll-off hoists and hooklift systems for trucks are well known.
You purchase a single chassis. Outfit it with your choice of a hoist or hook loader. And, purchase as many different truck bodies to roll or lift on and off as your operation requires. Use a container one day, a tanker body the next, a flat-bed the day after, and so on. Your big-ticket purchase — the cab and chassis — rarely sits idle. What's more, you register and insure just one vehicle.
But, while the benefits (e.g., cost savings, greater utilization) of these set-ups are widely recognized, those who are new to hauling might not know the difference between roll-off hoists and hooklift systems. Let this article be their guide.
Roll-off hoists: These systems employ a winch and a cable to pull containers or other bodies up onto the truck's bed. Of course, compatible roll-on/roll-off containers and bodies must have a hook in the front to connect with the cable. As the name implies, the containers also need to have nose rollers and rear wheels so the cable can pull them up on chassis.
Rails on both the truck bed and the containers help align loading. Most hoist-equipped trucks have two rails that are about 35 inches apart, while the containers have two rails that are approximately 36 inches apart.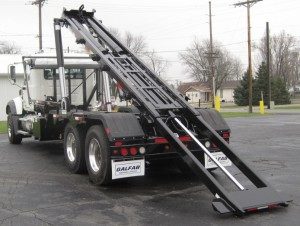 Hooklift systems: These systems do away with truck-mounted winches and cables. As the name implies, hooklift systems position a big, hydraulic-powered hook at the front of the truck's bed. Drivers back up to a container or body, connect the truck's hook to a receiving hook on the container, and simply lift it up onto the truck.
Compatible containers and bodies don't require nose rollers or rear wheels because the hook loader hoists them right onto the truck bed instead of rolling them on.
Pros and cons: Roll-off hoists are the most common of the two types, so more drivers and technicians people are likely to be familiar with them. What's more, owners can probably expect a greater selection of used roll-off equipment from which to choose if seeking to go the pre-owned route.
Others swear by hook loaders, and for several excellent reasons. Loading and unloading a hookift is faster because drivers do not need to extend or retrieve cables via the winch controls at truck side.
Improved operator safety — and reduced owner liability — are two other factors that favor hooklifts. Unlike roll-off hoists with cable and winches, hook loaders are operated from within the cab. Drivers are well shielded and far removed from moving machinery.
For selection, savings and service, make Ampliroll your first choice in hydraulic hooklift systems.
Ampliroll Hooklift Systems are manufactured by Marrel – the inventor of the dual-pivot hook loader in 1969 and first again in bringing them to users across the U.S. in 1980. Today, Ampliroll is one of the nation's leading providers of hooklift systems. Of course, we also offer high-quality pre-owned hooklift vehicles.