Buying A New Hook Loader: 6 Rules On Getting It Right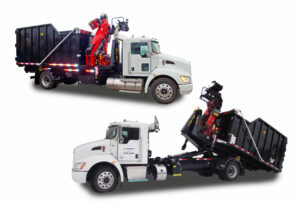 You expect a hook loader to give you years of dependable service, so making the right choice is key to your operation's success. As a long-time leader in the industry, Ampliroll knows a thing or two about hydraulic hooklift systems. Here are six rules to follow when making your purchase decision:
Rule #1: Purchase your chassis from a chassis supplier.
Why? Three reasons. If you source your chassis from an equipment supplier or hooklift dealer, they'll likely want to increase the sales price by mounting a piece of equipment to it.
Second, you might not get the right chassis for your application—just one the dealer has sitting on their lot at the time you start shopping.
And lastly, the equipment suppliers or hook loader dealer is, in many cases, not an expert on chassis. Without such expertise, they can't guide you to the one that delivers optimum utilization for your investment.
Bottom line? Rely on a chassis dealer for your chassis—and an equipment supplier or hooklift dealer for the other specialized products you need.
Rule #2: When it comes to chassis, buy local.
Resist the urge to get purchase a chassis from a dealer who is located hundreds or thousands of miles away. Your chassis might need warranty repair in the future. It stands that local dealers often service the units they've sold first before they repair those that have been obtained from others.
Rule #3: Buy local again when sourcing hooklifts.
A nearby hook loader dealer will appreciate your business. They're likely to favor you with priority parts service down the road. They might also be a source of referrals.
Rule #4: Be wary of those that promise too much.
Do your research and don't be swayed by extended hook loader warranties that sometimes aren't worth the paper they are written on.
The same goes with hooklift parts availability. A few questions asked in online forums will quickly let you know which dealers have replacement parts readily available—and who doesn't.
Finally, don't be reluctant to call the hooklift manufacturer with questions. If you're referred to various departments and people to get answers, factor this difficulty into your purchase decision.
Rule #5: Insist on a chassis/hooklift weight study.
The study will provide information on your prospective chassis-and-hook-loader combination. It will detail the set-up's legal payload and maximum axle loading. You'll also learn the GVW requirements needed for safe operation.
This information is important from a safety and legal standpoint—especially if your rig is later involved in a collision or if an injury occurs that's related to your equipment.
Rule #6: Start with Ampliroll when shopping for hooklifts.
A good many hook loader dealers won't look fondly on the first five rules. After all, many also sell truck chassis. Others won't know how to do a weight study. Then there are those with limited parts availability on a timely basis.
That's why it's wise to begin with Ampliroll when you need a hook loader. We don't sell chassis. We regularly provide weight studies. We stock a ready supply of replacement parts. What's more, we're highly knowledgeable on all aspects of hooklift operations.
After all, Ampliroll introduced the hook loader concept to the United States. Our equipment is proven in applications the world over, not just in the U.S.A.
Plus, we're the only hook loader manufacturer in America that can supply a complete package of equipment. Look for our products under the Ampliroll or Marrel brand names.
For selection, savings and service, make Ampliroll your first choice in hydraulic hooklift systems.
Ampliroll Hooklift Systems are manufactured by Marrel – the inventor of the dual-pivot hook loader in 1969 and first again in bringing them to users across the U.S. in 1980. Today, Ampliroll is the only supplier in the U.S.A. of premier hook loader systems and associated equipment.
Unlike many others, we also offer a complete selection of truck-mounted accessories and roll-on/off bodies that we can supply as a package with our hook loaders, allowing for single-source acquisition! Select from aerial lifts, cranes, grapple systems and more. Also choose from cement mixers, dump bodies, flatbeds, septic pumpers, waste containers, water tankers and other interchangeable bodies. In addition, you can select from our line of high-quality pre-owned hooklift vehicles.