Ampliroll Hydraulic Hooklifts: BRINGING VERSATILITY AND VALUE TO TREE CARE SERVICES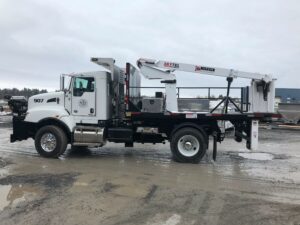 Tree service trucks work harder when outfitted with Ampliroll Hydraulic Hooklifts. When paired with any number of roll-on/off truck bodies, a single Ampliroll-equipped chassis can do the job of many purpose-built vehicles.
Arborists and tree care pros recognize their versatility. With Ampliroll Hooklifts, they know they can quickly and easily swap out truck bodies for different jobs or changing seasons.
Value is another plus to hook loaders from Ampliroll. They're an excellent solution for those who want to minimize vehicle purchases and maximize efficiency. For example, you could drop off a wood chip box and a work crew at one location while picking up a load of logs at another site.
Match Ampliroll with these tree-care truck bodies
A single Ampliroll Hooklift-equipped chassis can become the workhorse of any tree-service operation. Make the most of your investment by matching it to these roll-on/off bodies:
Aerial lifts to 48' working height
Arbor bodies
Container bodies
Dump bodies
Equipment bodies
Flatbed bodies
Platform/stake bodies
Tree/log grapples
Wood chip boxes
Benefit from the many advantages of Ampliroll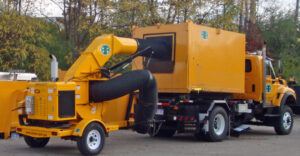 Compare Ampliroll to other hook lifts or even cable loaders. You'll discover that Ampliroll:
Operates at optimum pressure. For greater performance, Ampliroll Hooklifts feature high-pressure, 5,000-psi pumps. Used the world over, they're now the industry "gold standard" and are rapidly taking the place of less-efficient, low-pressure (i.e., 3,000-3,500 psi) alternatives. High-pressure pumps are increasingly the choice of crane and hoist manufacturers, too.
Offers excellent selection: No arborist or tree service job is too big or too small. Ampliroll manufactures hydraulic hooklifts with lifting capacities from 13,000 lbs. to 65,000 lbs.
Speeds pickups and drop-offs: There's no need for drivers to waste time in perfectly positioning their vehicles. An Ampliroll Hooklift can engage a body or chip box up to 30 degrees off-center when loading. The result? Roll-on/off truck body changeovers are faster with hydraulic hook loaders from Ampliroll. Easier on rookie drivers, too!
Enhances operator safety: With Ampliroll, workers operate controls from the safety of their truck cabs. In contrast, cable loaders have truck-side-mounted levers. They require drivers to climb down from their trucks and work next to moving machinery. And that's not to mention the need to walk on potentially slick or icy outdoor work surfaces to hook up heavy cables.
Improves owner peace-of-mind: There's another key benefit to the safety of Ampliroll's cab-operated controls. Reducing driver risk can help minimize your exposure to costly worker's compensation claims.
For selection, savings and service, make Ampliroll your first choice in hooklift systems
Ampliroll Hooklift Systems are manufactured by Marrel – the inventor of the dual-pivot hook loader in 1969 and first again in bringing them to users across the U.S. in 1980. Today, Ampliroll is the only supplier in the U.S.A. of premier hook loader systems and associated equipment.
Unlike many others, we also offer a complete selection of truck-mounted accessories and roll-on/off bodies that we can supply as a package with our hook loaders, allowing for single-source acquisition! Select from aerial lifts, cranes, grapple systems and more. Also choose from cement mixers, dump bodies, flatbeds, septic pumpers, waste containers, water tankers and other interchangeable bodies. In addition, you can select from our line of high-quality pre-owned hooklift vehicles.