Ampliroll Hooklift Featured Dealer: PERFECTION TRUCK PARTS AND EQUIPMENT, OKLAHOMA CITY, OKLAHOMA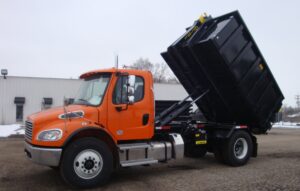 Carrying the top equipment brands—including Ampliroll Hydraulic Hooklift Systems— Perfection Truck Parts and Equipment of Oklahoma City makes three promises to truckers.
The company advertises, "A perfect upfit for the work you do."
It delivers, "Contractor grade work trucks."
And, of particular interest to anyone in the business, Perfection also promises, "Work smarter. Customizable storage. You won't know how you lived without it."
When it comes to upfits, they've got you covered
Virtually any rig is a candidate for an efficiency-enhancing commercial fleet upfit at Perfection:
Dump bodies
Flatbeds
Liftgates
Pickups
Service bodies
Van packages
Look to Perfection for just about every truck-related service
A "go-to" team throughout Oklahoma and in surrounding states, Perfection is your source for:
Crane installations and repairs
Driveline balances, builds and repairs
Heavy-duty equipment installations
Hose-and-cable assemblies
Light-duty equipment installations
Vehicle wraps and decals
Going with hooklifts from a leader—Ampliroll
Perfection's list of suppliers reads like a "who's who" of America's leading brands for truck equipment. Ampliroll is proud to be among its preferred providers.
With Ampliroll, the company's customers drive away in a roll-on/off truck outfitted to perform in the most rugged conditions—load-after-load, shift-after-shift. Users gain these benefits:
Capacity: Fleet operators get precisely what they need from Ampliroll. We offer hydraulic hooklifts with capacities from 13,000 lbs. to 65,000 lbs.
Efficiency: Drivers don't need to leave the cab to hook up a container as with cable loaders for roll-on/off operations. Ampliroll allows operators to load and unload from the comfort of the cab. Of course, Ampliroll's extra efficiency can lead to a few extra loads per shift.
Experience: No one's expertise runs deeper than Marrel—the maker of Ampliroll-branded products. Truckers gain the confidence they've selected a system with an unsurpassed reputation for reliability and excellence in design.
Performance: Ampliroll manufacturers systems with high-pressure (i.e., 5,000 psi) pumps. They're the choice of 75% of hook loader manufacturers in America and around the world. These systems are rapidly replacing less-efficient, lower-pressure (i.e., 3,000-3,500 psi) alternatives.
Precision: You can look for (but you won't find!) the shims or wear pads you may discover on other hook loaders! With laser cutting, robotic welding and other industry-leading production processes, Ampliroll eliminates the need for extraneous parts or "make-do" components.
Safety: With our in-cab controls, drivers don't need to walk on slippery ground or stand next to moving machinery to operate truck-side levers as they would with a cable loader. Many fleet owners consider Ampliroll a smart way to increase driver retention—and reduce their exposure to costly worker's compensation claims!
Perfection: A leading resource for over 75 years
Fleet operators, companies and single-rig owners have relied on Perfection Truck Parts & Equipment since 1946. As part of Rush Enterprises, they share the vision of being the premier solutions provider in the commercial vehicle industry.
Whether you need a perfect upfit (with a top brand like Ampliroll), a contractor-grade work truck, or want to work smarter with customizable storage, rely on Perfection. Always ready to help, visit their headquarters at:
Perfection Truck Parts & Equipment
5100 W. Reno Ave.
Oklahoma City, Oklahoma 73127-6316
Call them toll-free, 800-888-7326. Or, reach out to Perfection at: info@perfectionequipment.com
For selection, savings and service, make Ampliroll your first choice in hooklift systems
Ampliroll Hooklift Systems are manufactured by Marrel – the inventor of the dual-pivot hook loader in 1969 and first again in bringing them to users across the U.S. in 1980. Today, Ampliroll is the only supplier in the U.S.A. of premier hook loader systems and associated equipment.
Unlike many others, we also offer a complete selection of truck-mounted accessories and roll-on/off bodies that we can supply as a package with our hook loaders, allowing for single-source acquisition! Select from aerial lifts, cranes, grapple systems and more. Also choose from cement mixers, dump bodies, flatbeds, septic pumpers, waste containers, water tankers and other interchangeable bodies. In addition, you can select from our line of high-quality pre-owned hooklift vehicles.