What are the different kinds of hooklift bodies and hooklift containers?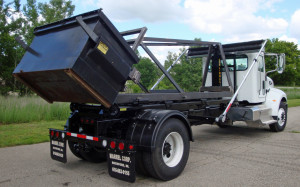 There's no shortage of hooklift truck bodies and containers from which to choose. In fact, if there's a truck body, you can bet someone has found a way to adapt it for a hydraulic hooklift!
Of course, with each hooklift body or container you get the value and convenience that have made hooklift trucks popular with contractors, municipalities, waste haulers and many other users. Chiefly, the ability to purchase a single heavy-duty truck chassis, equip it with a hydraulic hooklift hoist, and outfit it with as many hooklift bodies or hooklift containers to roll-on and roll-off as your operations require.
It's likely that you're familiar with a few favorites bodies or containers for hooklift trucks. But, if you're wondering how to make your hooklift truck work harder, you'll want to take a consider what are the different kinds of hooklift bodies and hooklift containers?
Chipper bodies: Designed to haul the chips produced by wood chippers, chipper bodies for hooklift trucks are popular with arborists, tree trimmers and utilities that cut branches or trees away from power lines.
Contractor-duty containers: Built for the toughest jobs, hooklift truck contractor-duty containers are often the choice of municipalities, waste haulers and other users for hauling construction debris, industrial or residential waste, and other heavy loads.
Dump Bodies: Gravel, mulch, sand, stone or topsoil? Dump bodies for hooklift trucks are like the "utilitymen" in trucking — good for hauling all sorts of loads. 
Flatbeds: Built for transporting everything from automobiles, all-terrain vehicles and farming equipment to lumber, plywood and other building materials, flatbeds for hooklift trucks offer many tie-down and deck styles.
Heavy-duty scrap bodies: Built tougher than even contractor duty bodies with features like side stiffeners and inverted-angle top rails, choose hooklift heavy-duty scrap bodies if your truck is tasked with hauling bricks, concrete, drywall, scrap metal and other weighty materials.
Landscape dump bodies: Featuring lower side walls than regular dump bodies, hooklift truck landscape dump bodies feature flip-down sides for easy loading of mowers and other lawn maintenance equipment.
Poly boxes: Constructed of heavy-duty plastic polymer that resists corrosion, poly boxes for hooklift trucks are the choice when hauling hazardous materials that are too acidic for safe handing in steel containers.
Recycling containers: Usually built to order with choices of roof styles, lid types and interior dividers, recycling containers for hydraulic hooklift-equipped trucks let cities recycle aluminum cans, cardboard, clothing articles, glass, newspapers, plastic bottles or other materials.
Security & storage containers: Use these hooklift bodies as secure storage units for construction sites.
Sealed containers: Haul wet loads like sludge without leaking contaminants with sealed containers for hooklift trucks. The sealed gates make sure fluids stay within the container until it's time to dump.
Tanker bodies: Use tanker bodies on hooklift trucks to haul water to construction sites or for other applications.
Tubs: A true "workhorse" among hooklift truck containers, roll-on tubs are ideal when working with brush, concrete chunks, dirt, garbage, grass, leaves and shingles, among many other loads. Many feature tapered sides so that the tubs can "nest" together for convenient stacking and storage.
Want a more complete review of hooklift bodies and hooklift containers?
This overview just scratches the surface of the many types of hooklift bodies and hooklift containers available to you today. For a fuller review including hooklift accessories like cherry pickers, excavating arms and more, see a slideshow that highlights even more types.
For selection, savings and service, make Ampliroll your first choice in hydraulic hooklift systems.
Ampliroll Hooklift Systems are manufactured by Marrel – the inventor of hooklifts in 1969 and first again in bringing them to users across the U.S. in 1980. Ampliroll is one of the leading suppliers of hook loaders and associated equipment in the U.S. and worldwide.