Ampliroll: Going the extra mile with replacement parts and technical support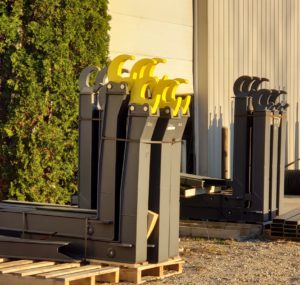 Many companies are happy to focus on selling new hydraulic hooklifts but few are more prepared to roll up their sleeves and help you down the road with replacement parts and technical support than Ampliroll.
Did you know the Ampliroll Hooklift is built to outlast your truck? This is possible with proper maintenance and replacement of parts. We uninstall and then re-install hooklift units onto new or different trucks because the hooklift maintains its good condition, but the life of the truck chassis may be over.
Now, as a long-time leader in the industry, we know better than many the rugged conditions that hook loader operators encounter every day. Keeping your roll-on/off trucks operating for years and years with maximum every day "uptime" is a top priority. That's why Ampliroll support is second to none.
To keep you rolling, your first choice for replacement parts, service and technical support is your local Ampliroll Dealer.
That said, our "parts guy" Adam Jansma and team in the Ampliroll Parts & Technical Department are also available to assist you. On behalf of Ampliroll Hooklift System users, we:
Stock almost all commonly used parts for current Ampliroll units, as well as parts for hook loaders we built as long as 35 years ago.
Ship many Ampliroll parts within 24 hours, if your order is received prior to 2:30 p.m., ET.
Help identify Ampliroll parts from photos you send by text or email — requesting that you add a description, model number and/or serial number if it's not clear in your picture.
Whenever possible, we'll even remove an Ampliroll part from a hooklift unit (inventory permitting) and ship it to you if it's not on the shelf when you need it.
Superior support: Part of our focus on 100% utilization for your fleet
Ampliroll's commitment to ensuring greater uptime should come as no surprise. After all, our hydraulic hooklifts are all about helping you come as close to 100% utilization as possible for your truck or fleet.
Consider that a hook loader often works harder than a dedicated dump truck, flatbed, tanker or other single-use rigs. They may sit for days or weeks between jobs, but not an Ampliroll!
With Ampliroll, you can purchase just one cab-and-chassis, outfit it with our hydraulic hooklift system, and add as many roll-on/off truck bodies as your operation supports. With one truck, a scrap dealer could drop off as many containers as needed at various collection points around town. A landscaper, on the other hand, might use a flatbed, dump, landscape deck or chipper body interchangeably on just a single rig.
To be sure, you can accomplish much of the same utility with cable loaders, but not nearly as efficiently. Ampliroll Hydraulic Hooklift Systems can drop off and pick up loads in a fraction of the time, allowing you more hauls per shift.
Ampliroll does it with potentially less risk for your workers, too. Unlike a cable loader, your driver operates the hooklift controls from within the cab — safely away from moving machinery and ground surfaces that may be slick with rain, snow, ice or grease.
For selection, savings and service, make Ampliroll your first choice in hydraulic hooklift systems.
Ampliroll Hooklift Systems are manufactured by Marrel – the inventor of the dual-pivot hook loader in 1969 and first again in bringing them to users across the U.S. in 1980. Today, Ampliroll is the only supplier in the U.S.A. of premier hook loader systems and associated equipment.
Unlike many others, we also offer a complete selection of truck-mounted accessories and roll-on/off bodies that we can supply as a package with our hook loaders, allowing for single-source acquisition! Select from aerial lifts, cranes, grapple systems and more. Also choose from cement mixers, dump bodies, flatbeds, septic pumpers, waste containers, water tankers and other interchangeable bodies. In addition, you can select from our line of high-quality pre-owned hooklift vehicles.