4 Factors: Making the Most of Your Hook Lift Investment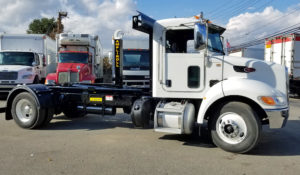 Perhaps you're looking to equip a new vehicle with a hydraulic loader. Or, maybe you've found a pre-owned hook lift truck for sale that checks off most of the right qualities you require. In the interest of getting the best value-for-your-money, consider these four factors before settling on a hydraulic lift for your dump truck bed or other equipment:
Check the speed and sequence options in your hook lift The number of times each day you'll lower, tip or change hook lift bodies is often key to profitability. Doing more in less time can lead to greater revenues. Some jobs, such as using your hook lift truck with a dump bed, will require frequent lowering and tipping. Other applications, like waste and recycling, could mean many unload/load cycles over the course of a shift.
Review your needs for hydraulic truck lift power and body length. If your hook lift truck performs a single job day-in and day-out, you'll know with pretty good certainty the power you need. You'll also eliminate the need for any reserve that comes at an added cost. But, for jobs where hook lift loads vary or that require an extra-long body, a reserve may be well worth the added investment. The extra power could be the competitive edge that lets you tackle hydraulic truck lift applications that your competitors have to pass up!
Don't forget the noise created by hook lift trucks. Some cities and suburbs strictly enforce noise regulations. If you'll operate your hydraulic platform lifts in these areas, you should consider ones that require reduced engine RPMs. Of course, shorter cycle times mean quieter hydraulic hoist operations, too.
Evaluate your need for taller hook lift bodies. With higher hook lift waste containers, you can often carry more payload per trip with a shorter body. That said, you'll need a hook lift system with a lighter weight and lower installation height to accommodate the taller, heavier loads containers.
For selection, savings, service, and low cost of ownership make Ampliroll your first choice in hydraulic hook lift systems.
Ampliroll Hook Lift Systems are manufactured by Marrel, who is both the inventor of hook lifts in 1969 and was first again to bring them to users across the U.S. in 1980. Today, Ampliroll is the nation's leading provider of quality hook loader/lift systems.
Ampliroll USA/Marrel Corp will attend the following shows in 2018:
The Work Truck Show – March 6 – 9, 2018
Waste Expo – April 23 – 26, 2018